Hillary Clinton Emails: State Department Releases 550 Messages From Her Time As Secretary Of State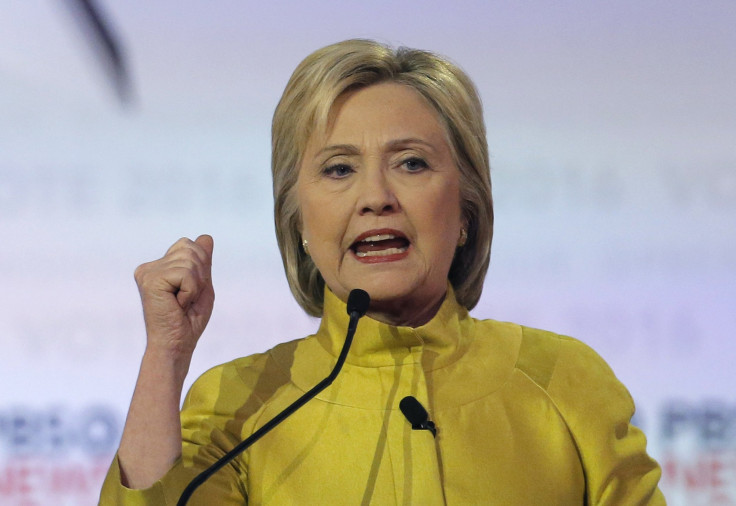 The U.S. State Department Saturday released 550 more emails from Hillary Clinton's time as secretary of state, and at least 22 of them appear to contain "classified" material.
Clinton's email habits as secretary of state have dogged her throughout her Democratic presidential campaign, with reports the FBI is investigating her use of a private server housed in her family's home instead of a traditional government email account. At least 1,500 emails on Clinton's server contained some level of classified information, the Hill reported. The State Department's inspector general has identified "several dozen" of the emails that contained information classified by the government at the "confidential, secret and top secret" levels.
The department has thus far released tens of thousands of pages of electronic messages Clinton exchanged through her private server in response to a lawsuit over the agency's failure to produce her email records.
The disclosure of the latest batch of emails comes soon before the upcoming Democratic caucuses in Nevada (Feb. 20) and the South Carolina primary (Feb. 27). More sets are scheduled to be released a day before each of the contests. The last of Clinton's emails are expected to be disclosed just days before Super Tuesday, March 1, when primaries and caucuses will take place in nearly a dozen states.
The Clinton campaign has consistenty argued there is no issue with the government declaring the context of her inbox classified, because the information was only designated as confidential after the fact.
"I never sent or received any email marked 'classified,'" Clinton said last month. "I take classified information very seriously. I want to get things out and I want to people to understand based on what happened and when it was happening in real time there were no classification markings, and that's what you have to be guided by."
International Business Times reviewed roughly two dozen emails released by the State Department that include information marked classified and deemed confidential.
In one heavily redacted email exchange, Susan Rice — then the U.S. ambassador to the United Nations — appears to have passed along information related to a conversation with U.N. Secretary-General Ban Ki-moon to Jake Sullivan, a top aide to Clinton at the State Department. Sullivan then forwarded the message to Clinton at her personal email address.
Earlier this month, when another set of Clinton emails was published, the Hill reported that Secretary of State John Kerry had, as a Massachusetts senator, emailed classified information to Clinton's private email address. The batch released Saturday includes another email Kerry sent Clinton with classified material. The message, from April 2012, is almost completely redacted.
One largely redacted email, sent to Clinton by her aide Huma Abedin, appears to focus on Washington's push for a U.N. Security Council resolution calling for the resignation of Syrian president Bashar al-Assad, following violent crackdowns on protesters, and on persuading Russia to support the effort. Both Russia and China vetoed such a resolution in 2012. Other emails with classified information show efforts to pass a similar measure in 2011.
In April 2011, Sullivan forwarded Clinton an email sent to top national security officials with a draft paper outlining "Libya principles," a month after the U.S. and countries on the U.N. Security Council agreed to authorize military intervention in the Libyan civil war. The contents of that paper have been fully redacted.
Clinton, who supported intervention in Libya against dictator Muammar Gaddafi, appears to express concern about the contents of the paper: "Noises of resolve w/out greater success on the ground v Q's forces will not sound convincing. Who's coordinating the parallel military discussion about what more will be done by whom?"
Gaddafi was killed by rebels later that year, and the country is currently fighting a new civil war.
Clinton Emails Marked Classified
John Osborne contributed to this report.
© Copyright IBTimes 2023. All rights reserved.