Hillary Clinton Islamic State Speech Live Stream: Watch As She Details Plans To Destroy ISIS After Paris Terror Attacks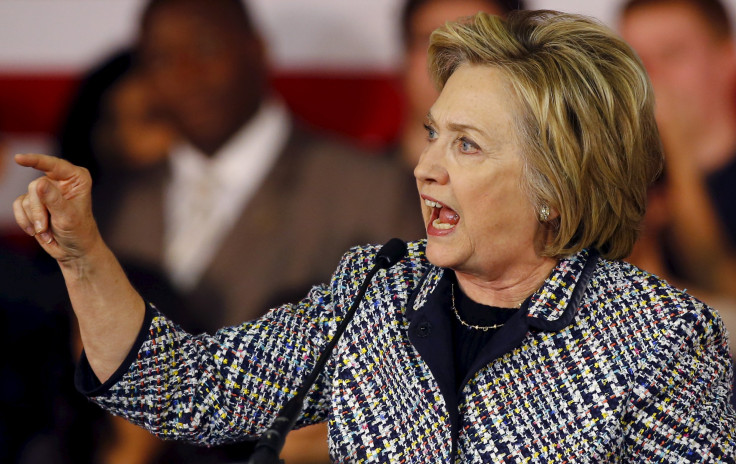 UPDATE 10:56 a.m. EST -- Democratic presidential front-runner Hillary Clinton said during a major foreign policy speech in New York City Thursday that the United States needs to build a stronger and more effective coalition of international forces to continue airstrikes targeting Syria in order to destroy the Islamic State group. Clinton proceeded to indicate that she agrees with U.S. President Barack Obama that large-scale troop deployment in the Middle East is not a smart strategy and that local fighters need to lead the efforts to destroy the terror group. She is, she said, the most qualified candidate to lead the fight.
Afterward she hit on two more major points of her foreign policy strategy, including working to stop the radicalization of Westerners with Western passports and increasing security and defense against new weapons and threats.
"If we press forward on both sides of the border in the air and on the ground, as well as diplomatically, I do believe we can crush ISIS's conclave of terror," she said before asking Congress to pass a renewed war authorization for the conflict.
Clinton also expressed support for a no-fly zone to help Syrian rebel groups fighting Syrian President Bashar Assad, which the president has not supported. She said that a diplomatic agreement to end the country's civil war that paves the way for a new government was ultimately necessary so that the country can unite against ISIS. She offered that Russia's backing of the Syrian president's regime was making things worse.
"A key obstacle standing in the way is a shorted intelligence about ISIS and its operation," she said during the speech.
Finally she said that the Western world and radical Islam are engaged in a struggle of ideas in addition to the physical battles that are being fought. She said that crumbling institutions in the Middle East and years of violence have led the radicalization of individuals, and said that the United States needs to continue to push back with its own ideas.
"This is not a time to score political points," she said, noting that she was a senator in New York during 9/11 when there was a Republican president. She then said that she knows how to fight the group because of her experience as secretary of state.
Original story:
Hillary Clinton is expected to outline her foreign policy vision Thursday morning in New York City, just one day shy of the one week anniversary of the Paris terror attacks that the Islamic State group has taken responsibility for. A Clinton aide said she will hit on three objectives, which include defeating ISIS, disrupting growing terrorist networks and hardening defenses against external and homegrown threats, according to Politico.
The former secretary of state's speech, which can be watched live at 10:30 a.m. EST, will be a chance for her to either double down on the foreign policy espoused by President Barack Obama, who she served under as secretary of state, or to move in a different direction. She has aligned herself fairly closely with the president in the past but has also pushed for measures Obama has so far kept clear of, such as implementing a no-fly zone in Syria.
The day after the Friday Paris attacks, Democrats held a second presidential debate that was reorganized to focus on foreign policy first. Clinton, whose credentials as a potential commander-in-chief rely on her experience as the nation's leading diplomat, generally supported the Obama administration's Syria strategy. She has been well known as a hawk when it comes to foreign policy, however, and voted for the Iraq war authorization following Sept. 11.
Her opponents, Vermont Sen. Bernie Sanders and former Maryland Gov. Martin O'Malley, don't have the same foreign policy experience as Clinton. During Saturday's debate, Sanders would pivot to domestic economic concerns that he has built his campaign on, and O'Malley, too, focused mostly on domestic policy.
© Copyright IBTimes 2023. All rights reserved.