Homelessness in America: Los Angeles Has Greatest Number Of Chronically Homeless; Big Jumps Reported in Seattle, Dallas, DC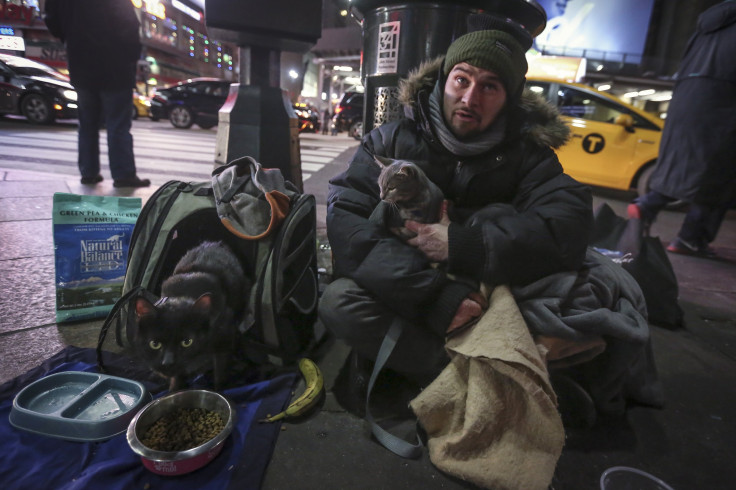 Los Angeles tallied the most chronically homeless people in the nation for the second straight year, an annual report to Congress showed Wednesday.
The 2016 report from the Department of Housing and Urban Development found Los Angeles has 13,000 chronically homeless among an overall figure of 44,000, 95 percent of whom live in cars, tents, encampments or outdoors. The numbers came from a nationwide street count conducted one night in January. Some of the numbers were released earlier in the year locally.
Among those 13,000 are 2,700 homeless veterans, also the largest number in the nation, and 3,000 homeless youth, the report said.
Seattle, Dallas and the District of Columbia reported the biggest jumps. Federal housing officials blamed soaring rents and lack of funds to build affordable housing.
Seattle reported a 19 percent increase from 2015, with 4,500 people reported sleeping outside, the Seattle Times reportedearlier this year. Dallas reported 3,900 homeless, with 740 of them living on the street, in parks or under highway overpasses, the Dallas Morning News reported. Washington, D.C., counted 4,667 homeless children and their parents and 3,683 single adults, the Washington Post reported.
New York reported a record high 60,059 homeless last month, the New York Post reported.
The LA Times said the difference between New York and Los Angeles is while most homeless New Yorkers live with other family members or in shelters, 75 percent of Angelenos live on the streets, or in ravines and riverbeds.
Norm Suchar, director of HUD's homeless assistance programs, told reporters by phone the problem is worsening on the West Coast, the Los Angeles Times reported.
Cities across the country are making things tougher for the homeless, adopting bans on living in vehicles, camping in public and panhandling, the Associated Press reported Tuesday.
Denver has criminalized homelessness by enacting a no-camping law, the National Law Center on Homelessness and Poverty said. And Honolulu has banned sitting or lying on sidewalks.
"These laws are unconstitutional and bad public policy," Maria Foscarinis, the center's executive director, said. "Homelessness remains a national crisis across the country. It's fueled by the growing lack of affordable housing and the shrinking safety net."
The center reviewed policies in 187 cities and noted bans on living in vehicles increased by 143 percent in the past decade.
Denver forced thousands of people to pack up their belongings Tuesday as they dismantled camps.
During the summer, Chicago, which counted 5,889 homeless living on the streets, attempted to clear encampments from under four viaducts along Lake Shore Drive.
"Don't pretend you're doing anything about homelessness," Andy Thayer, of the Uptown Tent City Organizers, told the Chicago Tribune. "You're cleaning up the lakefront for yuppie tourists."
© Copyright IBTimes 2023. All rights reserved.