Honduras Prison: Probe Says Cigarette Caused Fire; Families of Inmates Smell Foul Play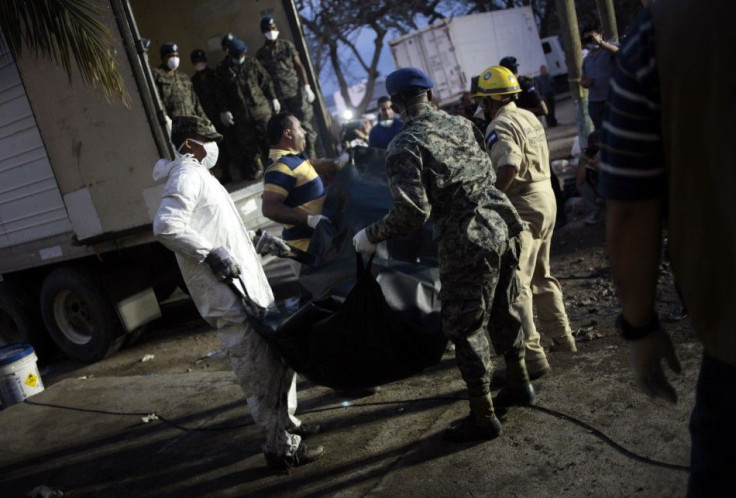 The deadly fire at a prison in central Honduras that claimed the lives of 360 inmates last week could have been caused by a cigarette or candle, reveals the investigation.
The fire was merely an accidental occurrence and not caused by criminal hands, country's attorney general Luis Rubi was quoted as saying by newsbullet.in Tuesday.
The investigation has been concluded by a group of experts from the U.S. Bureau of Alcohol, Tobacco, Firearms and Explosives, who arrived in Honduras two days after the fire at the request of President Porfirio Lobo's administration.
Citing some anonymous inmates, newspapers had earlier reported that gasoline had been used to start the fire in the prison. But Luis Rubi said that authorities had ruled out that possibility.
Also, the attorney general told Televicentro television in an interview that none of the more than 200 autopsies performed on inmates revealed any bullet wounds, which contradicts the claims by residents of the prison neighborhood that there were gun shots while the fire blazed.
Family members of inmates are not convinced. They have apparently pointed to numerous suspicious circumstances around the fire, including a video taken by a resident living close to the prison. In the footage, gunshots could be heard while the fire blazed, Reuters reported.
This was premeditated and they are not going to convince me otherwise, Suyapa Tejeda, whose husband died in the prison, was quoted as saying by bdnews24.com. They were murdered and they should find those responsible, she added.
However, according to the police, the fire was opened in the air to prevent inmates from escaping. Also, the local fire chief said that the police in-charge of the prison did not let his crew inside for some 30 minutes, to fight the fire, says the report.
Honduras, one of the countries with highest crime rate in the world, has more than 13,000 inmates in prisons designed for 8,000 people. Earlier also, there were incidents of fire and riots in the country's prisons.
We're awaiting the reports so that we may have a really exact version of what happened, the attorney general said.
The fire broke out late on Feb 14 night, killing the prisoners trapped inside their cells.
Relatives of the victims have been waiting for days together outside the medical examiner's office to identify and collect the remains of their loved ones.
Although forensic experts are working towards identifying the bodies, some of them are reportedly so burnt that DNA testing is being relied upon to identify them.
© Copyright IBTimes 2023. All rights reserved.