Horse Collapses Pulling Carriage In New York City As Driver Yells, 'Get Up'
A horse pulling a carriage on a hot summer day in New York City collapsed in the street as its owner yelled at it to get up.
The incident took place on Wednesday in midtown Manhattan on 42nd St. and 9th Ave. in Hell's Kitchen. A video surfaced online of the horse laying in the street as the driver yelled at the animal to stand up and used the reins to whip it.
"Get up! Get up! Get up! C'mon, get up," the driver shouted.
The man continued to tug at the reins and hit the horse, which eventually rolled on its side to lay on the street.
When the New York City Police Department arrived around 5 p.m. ET, officers tried to revive the horse.
"Upon arrival, patrol officers observed a carriage horse lying in the middle of the roadway in distress," the department said in a statement.
The officers attempted to cool the horse down by using a hose to pour water on its body. NYPD officers were eventually able to get the 14-year-old male horse named Ryder back on his feet and transported him to a stable 10 blocks away.
"The NYPD takes the health and well-being of our four-legged friends in New York City very seriously, and are glad that our trained equestrian officers were able to assist," the NYPD said.
The incident renewed demands to ban horse carriages in NYC. Former Mayor Bill de Blasio signed a carriage horse relief bill into law, which prohibits horses from working when the temperature is 90 degrees or hotter.
However, it was 87 degrees on Wednesday, which means the horse was allowed to work.
Although many onlookers assumed the horse collapsed from heat exhaustion, Pete Donohue, a spokesman for Transport Workers Union Local 100, which represents horse carriage drivers, dismissed the idea.
Donohue claimed the horse collapsed from equine protozoal myeloencephalitis, a neurologic disease that can develop from eating infected rodent droppings.
"That's what this appears to be, according to the expert who has examined the horse," Donohue said, "We urge everyone not to jump to conclusions and automatically assume the worst."
Ryder was treated by a veterinarian following the incident and was eating and drinking Wednesday night, according to Donohue.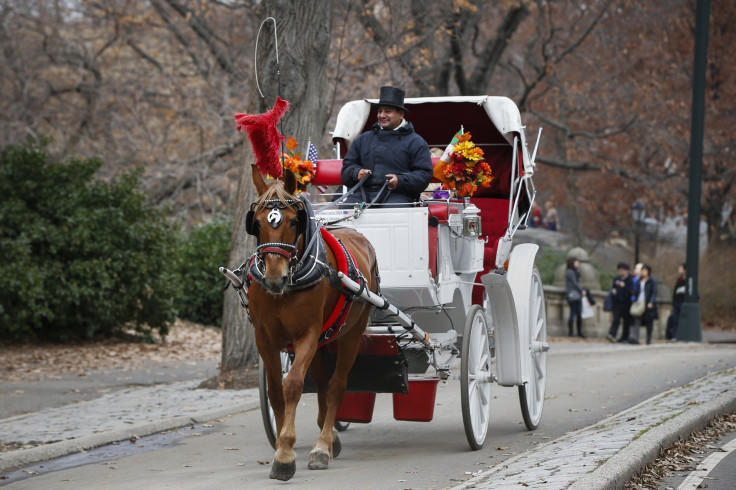 © Copyright IBTimes 2022. All rights reserved.
FOLLOW MORE IBT NEWS ON THE BELOW CHANNELS