How Brad Pitt Feels About Daughter Shiloh Wanting To Be Called 'Boy's Name'
Brad Pitt and Angelina Jolie's daughter, Shiloh, has become known for her preference for "boy" clothes such as suits, tuxedos and oversize tracksuits. And her parents are fully supportive of all her choices.
Recent rumors claimed that Pitt and Jolie have recently been feuding over Shiloh wearing "boys' clothes," with the actor reportedly having a hard time accepting his daughter's preferences. However, Pitt has proven to be completely supportive of Shiloh's choices even she asked to be called a "boy's name."
During a 2008 interview with Oprah Winfrey, Pitt opened up about Shiloh asking him to call her John instead of her name. "She only wants to be called John. John or Peter. So it's a Peter Pan thing. So we've got to call her John," he recalled.
Pitt explained that Shiloh had been very insistent on him calling her by the name even during mealtimes. "'Shi, do you want…' 'John. I'm John.' And then I'll say, 'John, would you like some orange juice?' And she goes, 'No!' So, you know, it's just that kind of stuff that's cute to parents and it's probably really obnoxious to other people," he dished.
While promoting his film "The Tree of Life" back in 2011, Pitt touched on the topic of playing an overbearing father on the big screen and his children's possible reactions to his role. He said during an interview that he believes his kids will see that he is only acting as he is not this kind of dad in real life.
"I think of everything I do now that my kids are going to see when they grow up and how are they going to feel. But they know me as a dad and I hope they'll just think of me as a pretty damn good actor," he told People.
Pitt also confessed that he found growing up in a strict religious household to be "stifling."
"I got brought up being told things were God's way, and when things didn't work out it was called God's plan. I've got my issues with it. Don't get me started. I found it very stifling," Pitt said.
Over the years, Pitt has also graced the red carpet with his eldest biological child with Jolie multiple times, with the father and daughter usually wearing matching or complementing suits. It's safe to say that Pitt has no problem with his children's style choices.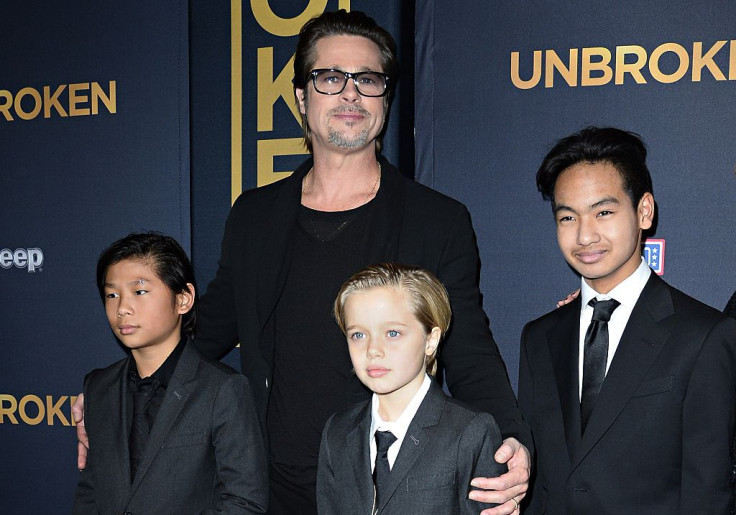 Like Pitt, Jolie is also 100 percent supportive of their six children's choices. Aside from Shiloh, she also shares Maddox, 17, Pax, 15, Zahara, 14, and 10-year-old twins Knox and Vivienne with Pitt.
Back in December, the "Maleficent: Mistress of Evil" star told BBC Radio 4's "Today" that she actively encourages her children's rebellious streaks and individuality.
"[My kids] all have a good rebellious streak that is wonderful and curious," she revealed. "I don't want them to be perfectly behaved little people that just say what's absolutely appropriate because I say so … they have to find themselves."
© Copyright IBTimes 2023. All rights reserved.