How Michelle Obama Is Fighting Depression: 'There's No Magic To It'
Michelle Obama isn't always smiling. In fact, the former First Lady revealed that she is struggling with her mental health at the moment.
"I know that I am dealing with some form of low-grade depression," she admitted on Wednesday's episode of "The Michelle Obama Podcast." "Not just because of the quarantine, but because of the racial strife. And just seeing this administration watching the hypocrisy of it, day in and day out, is dispiriting."
The 50-minute episode, exclusively on Spotify, finds Obama speaking with award-winning journalist Michele Norris about the pandemic and protests. Obama told Norris that she knows she isn't alone in her fight for her mental health, and she pointed out that President Trump's administration certainly isn't helping.
"I don't think I'm unusual in that. But I'd be remiss to say that part of this depression is also a result of what we're seeing in terms of the protests, the continued racial unrest that has plagued this country since it's birth," the Harvard Law School alum explained.
"I have to say, that waking up to the news, waking up to how this administration has or has not responded, waking up to yet another story of a Black man or a Black person somehow being dehumanized or hurt or killed or falsely accused of something—it is exhausting. And it has led to a weight that I haven't felt in my life in a while."
Norris asked Obama how to deal with the low-points amidst such stressful current events. "My spirit is lifted when I am feeling healthy, when I am surrounded by good people. So I reach out. I reach out to my family and my friends, even in this time of quarantine," she said, noting that her husband Barack Obama and daughters Sasha and Malia are on that list of people who lift her spirits.
"For me, there's no magic to it, but it is effort. Because you have to recognize that you're in a bad place to get out of it," she added.
Obama noted that she also turns off her phone and the news sometimes. She noted that she learned during Barack Obama's two-term presidency that short breaks are necessary.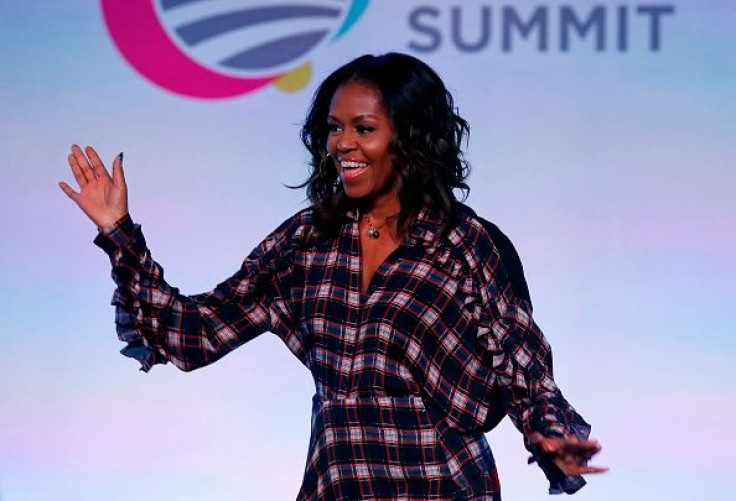 © Copyright IBTimes 2023. All rights reserved.