How Much Steel Does The US Make? Trump Praised By CEO For Plans To Deregulate, Lower Corporate Tax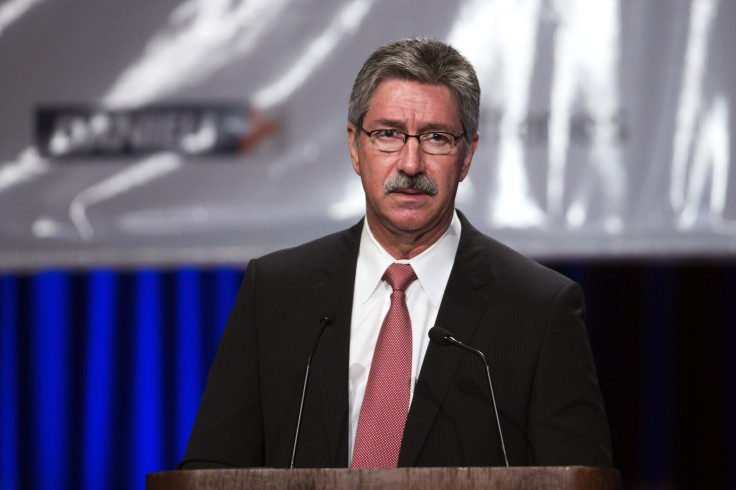 The chief executive of Pittsburgh-based United States Steel Corporation (X) praised president-elect Donald Trump's lax stance on corporate taxes and regulation on Wednesday. Such policies could lead the steel industry to add 10,000 jobs and boost investment, he told CNBC.
"I'd be more than happy to bring back employees we've been forced to lay off during that depressive period," Mario Longhi said in reference to years under President Barack Obama's administration. "There was a point in time in the past couple years that I was having to hire more lawyers to try to interpret these new regulations than I was hiring… engineers. That doesn't make any sense."
U.S. Steel's share price nearly doubled in the month since Trump's election, rising from $20.96 on Nov. 8 to nearly $38 Thursday.
"We've already structured to do some things, but when you see in the near future improvement to tax laws, improvements to regulation, those two things by themselves may be a significant driver to what we're going to do," Longhi continued. However, he said, some regulation was needed, but it "has to be done smartly."
Trump has campaigned on promises to drop corporate taxes from to 15 percent from 35 percent and discard "all unnecessary regulations"— welcome news for the industry after years of facing limits on its environmental footprint.
Longhi, however, did not mention whether he was aware that Trump, despite promising punitive relations with China throughout his campaign, has bought steel from China, rather than domestic producers like U.S. Steel, for at least two real estate projects, as Newsweek reported.
In doing so, Trump benefitted from a predatory trade practice known as "dumping," in which firms send large-scale exports of a product to a country where prices will be so low relative to those of domestic companies that the foreign ones can essentially squeeze domestic competition out of the market. In March, the Department of Commerce imposed a 266 percent tariff on steel imports from China, a penalty on Chinese firms engaging in steel dumping.
American steel production dropped from more than 8.5 million monthly tons to a record low of less than 3.8 million in April 2009, around the time the Environmental Protection Agency introduced a new mandatory greenhouse gases reporting rule. I was the first of many regulations intended to curb the industry's emissions.
U.S. output has seen another more gradual decline, to about 6.4 million tons per month as of December 2016 from about 7.3 million at the start of the summer of 2014. That was when the EPA announced new carbon emissions standards that the industry group American Iron and Steel Institute said "could severely harm" the sector by forcing companies to raise prices and lay off workers in order to afford the cost of compliance.
© Copyright IBTimes 2023. All rights reserved.