Donald Trump And Oil: Can President Obama Block Offshore Drilling, Control Trump Administration Environmental Policy?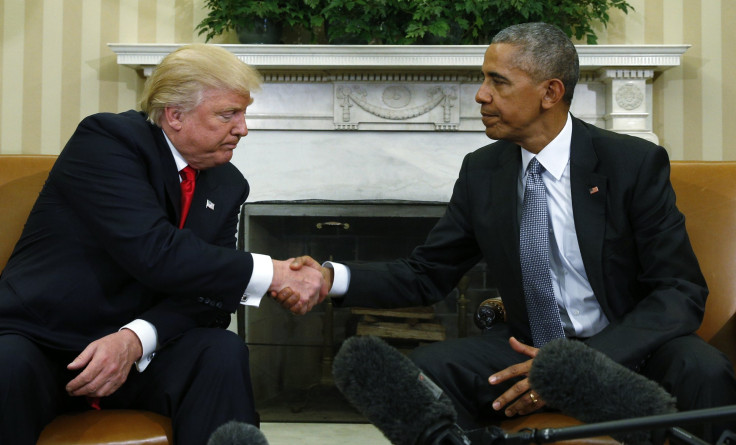 President-elect Donald Trump is a climate change skeptic and an enthusiastic supporter of the fossil fuel industry. To minimize the Trump administration's potential impact on the environment, activists want President Obama to erect roadblocks to future offshore oil and gas wells — even though Obama himself has a mixed record on drilling, sometimes restricting offshore wells, and other times delivering lucrative permits to underwater frackers.
On Thursday, the climate activst group 350.org called on Obama to "cancel all oil and gas leases in our public waters" before Trump takes office. The administration is set to release a five-year plan for offshore oil and gas drilling as early as today.
While Obama is reportedly willing to limit drilling in the Arctic going forward, the administration may leave the Gulf of Mexico and Alaska open to more extensive drilling. And some environmental groups want Obama to go further.
"With President-elect Trump threatening to drag us backwards on climate, it's critical that President Obama take us another leap forward," 350.org's director May Boeve said. "Scientists are very clear that the only way to prevent catastrophic climate change is to keep fossil fuels in the ground, or in this case, under the ocean floor."
According to the Center for Biodiversity, exploiting the energy resources in the Gulf would produce more emissions than 9,500 coal-fired power plants operating for a year. Still, the latest draft of the Obama administration's offshore leasing plan includes nearly the entire Gulf region, and extensive offshore regions in Alaska.
International Business Times previously reported that the proposal relied on research funded by the fossil fuel industry; it appeared to justify what would be lucrative leases.
Trump has enthusiastically embraced fossil fuels — especially coal. The president-elected repeatedly said on the campaign trail that "America's incredible energy potential remains untapped," and he appointed a climate-change denier to head his EPA transition team.

At the same time, Trump doesn't appear to have a well-defined position on offshore drilling. When asked by a reporter at the Tampa Bay Times about drilling close to the coastline, Trump replied: "They've already got plenty in the Gulf ... It would be a little bit of a shame [to expand drilling closer to Florida], because there's so much fracking and there's so much oil that we have now that we never thought possible." When pressed for details, Trump responded: "That's an issue I'd absolutely study and do the right thing."
One potential sign of Trump's current thinking was the decision to give Michael Catanzaro — a lobbyist for Devon Energy and Encana Oil and Gas — the "energy independence" portfolio, in his transition team. Both oil companies have in the past drilled for oil in the Gulf. Earlier this week, Vice President-elect Mike Pence announced that lobbyists would be purged from the team. It's unclear if Catanzaro is still working for Trump.
Since Trump's victory last week, Obama has taken a number of steps to restrict future fossil fuel exploitation, including a decision Monday to cancel a lease to Devon Energy to drill on Native American land in Montana. While Obama hasn't publically spoken about the offshore drilling leases, unnamed officials told Bloomberg this week that the administration is taking concrete steps to remove the Arctic from the list of future leases. It could take Trump several years to reverse that decision, since the offshore leasing blueprint requires a lengthy bureaucratic procces to unwind.
Some environmental groups are looking for more longterm solution. The Natural Resources Defense Council, the League of Conservation Voters and NextGen Climate Action Group have all called on Obama to use an obscure 1953 law — The Outer Continental Shelf Lands Act — to permantly ban drilling in parts of the Arctic Shelf.
© Copyright IBTimes 2023. All rights reserved.