How To Register To Vote? 1 In 5 Eligible Americans Remain Unregistered
One of the most important rights people are entitled to is the right to vote. Its significance has been emphasized by many members of the political circuit, as well as activists both on large-scale and grassroots levels.
Despite this, one in five eligible Americans are not registered to vote, according to data from U.S. Census Bureau, as reported by CNET.
To put a spotlight on the importance of voting and encourage more people to register to vote, Google devoted its Doodle to National Voter's Registration Day Tuesday.
National Voter's Registration Day is a nonpartisan holiday that is observed every September. First celebrated in 2012, this holiday has gained significance over time, helping approximately 4.7 people to register as voters.
With coordinated efforts using technology and media, as well as assistance from volunteers, this holiday has created broad awareness of voter registration opportunities among tens of thousands of voters who may not register otherwise.
There are many reasons why millions of Americans are not able to exercise their right to vote, including outdated and missed registration. There's also a section of the population that cannot vote because they don't know how to register.
To help people as such, the following are some quick tips on how one can register to vote.
Getting in Touch With Local Offices
Every state has drawn up its own voting and election rules, including when and how to register. For detailed and up-to-date information about how people could sign up as voters, residents are encouraged to check with the election officers in their respective states and localities.
Starting the Process Online
Another way to start the voter registration process is by logging in to vote.gov. The steps are simple. One simply has to select the state or territory they are in so they can find specific instructions on how they can complete the registration online, by mail or in person at the local election office.
Using the National Mail Voter Registration Form
One can also download the National Mail Voter Registration Form, fill it out on the computer and print it out once done. The blank form can also be filled out by hand. Most importantly, the document should be signed before it gets mailed to the specific location listed for one's respective state.
Seeking Help From the Federal Voting Assistance Program (FVAP)
FVAP helps overseas U.S. citizens and service members, as well as their spouses and other eligible family members, to register to vote and request an absentee ballot. One should click on this link for further assistance.
Each state, except North Dakota, requires its citizens to register in order to vote. To avoid missing registration deadlines, one should always check the U.S. Vote Foundation. First-time voters can also watch this step-by-step guide video to have a better understanding of the registration process.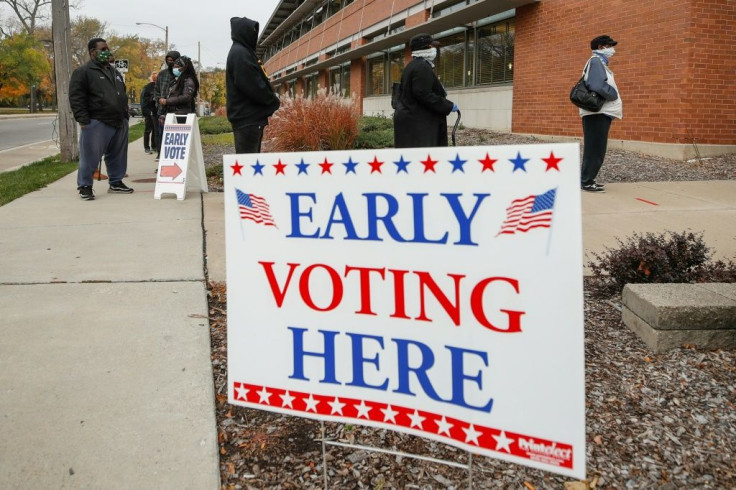 © Copyright IBTimes 2023. All rights reserved.