How Ronny Jackson Became Trump's Pick To Head Veterans Affairs
The Trump administration has been on a firing spree and the latest to join the list was Veterans Affairs Secretary David Shulkin. President Donald Trump on Wednesday fired Shulkin and nominated presidential physician Ronny Jackson, 50, as his replacement.
In a tweet Wednesday, the president said Robert Wilkie of the Defense Department will be the acting secretary until Jackson is confirmed.
Speaking about his choice, Trump in a statement said, "Admiral Jackson is highly trained and qualified and as a service member himself, he has seen firsthand the tremendous sacrifice our veterans make and has a deep appreciation for the debt our great country owes them."
The recent development comes hardly a week after the ousting of HR McMaster from the post of national security adviser. Trump on March 22 announced he selected John Bolton, the former United Nations ambassador, to the post.
Prior to this, several other top officials including former Secretary of State Rex Tillerson, Health and Human Services Secretary Tom Price, FBI Director James Comey, Deputy FBI Director Andrew McCabe, Trump's Chief Strategist Steve Bannon, National Security Adviser Michael Flynn, White House Chief of Staff Reince Priebus, Communications Directors Hope Hicks and Anthony Scaramucci, and Economic Adviser Gary Cohn, either lost their jobs or resigned.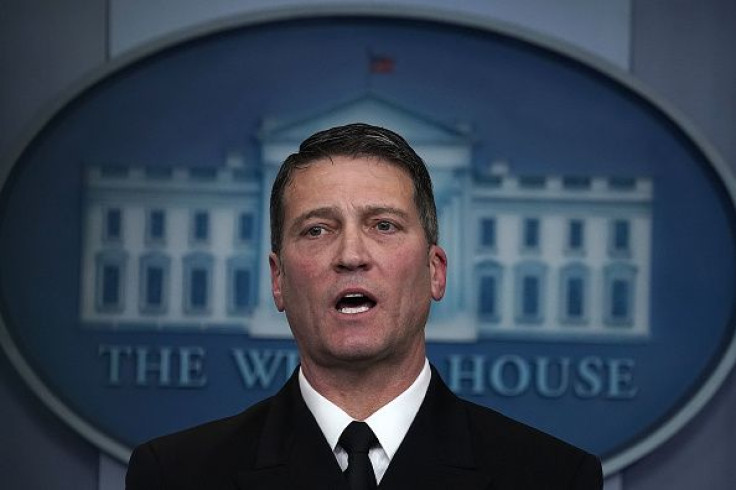 Jackson, a Naval officer, served as a White House physician during the George W. Bush administration in 2006. He later served as a physician to former president Barack Obama, before the Trump administration.
An Iraq war veteran trained in emergency medicine, Jackson first came into the limelight when he announced the results of Trump's physical examination back in January and said the president was in "very, very good health" and had "incredible genes." Addressing questions about Trump's mental acuity and fitness for the job, Jackson said the president displayed no signs of any shortcomings with his thought processes.
This impressed the POTUS. Praising the doctor, he once said, "He's like central casting — like a Hollywood star," CNN reported.
He began his active duty naval service in 1995 at the Portsmouth Naval Medical Center in Virginia, according to his U.S. Navy biography.
A native of Levelland, Texas, Jackson graduated from the medical school at the University of Texas Medical Branch and began his active naval service in 1995. He later became an honor graduate of the Navy's Undersea Medical Officer Program in Groton, Connecticut.
According to Jackson's Navy biography, "Since arriving at the White House, he has directed the Executive Health Care for the President's Cabinet and Senior Staff, served as physician supervisor for the Camp David Presidential Retreat, held the position of physician to the White House and led the White House Medical Unit as its director."
Despite serving many years in the military, Jackson has no real experience in bureaucracy. Due to this, a veterans group voiced concerns over the Trump's decision to nominate Jackson to run the department.
"We are disappointed and already quite concerned about this nominee," said Joe Chenelly, the national executive director of American Veterans. "The administration needs to be ready to prove that he's qualified to run such a massive agency, a $200 billion bureaucracy."
© Copyright IBTimes 2022. All rights reserved.
FOLLOW MORE IBT NEWS ON THE BELOW CHANNELS