How To Stop Trump: Bernie Sanders Is Helping Liberals Take Over Conservative States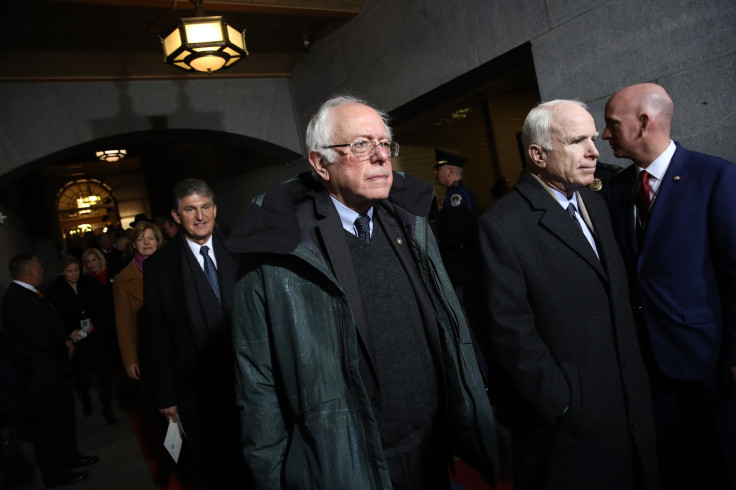 Vermont Sen. Bernie Sanders would be the first person to tell you President Donald Trump's first few weeks in the Oval Office have been mired in controversies, to say the least.
Reports the Trump administration has been connected to the Russian Kremlin continued to make headlines, protests enveloped the nation immediately following the president's swearing-in ceremony and demonstrations have continued ever since, with countless politicians and activists calling for his impeachment. And it's only week seven.
Read: Twitter Wars And Temperament Are Destroying Trump's Ability To Serve, Americans Say
Now, Sanders is fighting tooth and nail to make traditionally red states turn blue ahead of the 2018 midterm elections and the 2020 presidential election, for which Trump signed a reelection bid his first night in office. The liberal firebrand told The Guardian in an interview published Friday about the works he's been up to since the 2016 presidential election and how civic engagement has spurred an unprecedented progressive movement within the Democratic party.
"My job is to substantially increase the number of people participating in the political process," Sanders said. "We've been quite successful in this, getting more and more people to run for office. That's what I'm focusing on."
Former Democratic candidate Hillary Clinton bested Sanders in the 2016 Democratic primaries and received nearly three million more votes than Trump, but several historically blue states voted for the president on Election Day, including Wisconsin, Pennsylvania and Michigan.
Sanders said it's his mission to make sure that never happens again, by injecting millennial and liberal ideologies into the Democratic platform and agenda, from immigrant rights to universal health care access.
"[Young people] should take a deep reflection about the history of this country, understand that absolutely these are very difficult and frightening times," Sanders said. "But also understand that in moments of crisis, what has happened, time and time again, is that people have stood up and fought back. So despair is absolutely not an option."
© Copyright IBTimes 2023. All rights reserved.