Icelanders Protest Evangelist Franklin Graham By Reserving Tickets To His Festival With No Intention Of Showing Up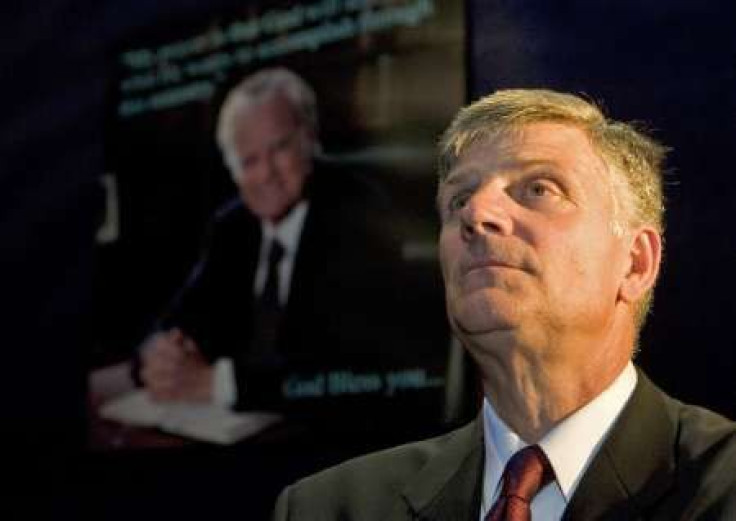 Updated: Wednesday, Aug. 14: Árni Svanur Daníelsson, a representative of the Evangelic Lutheran Church of Iceland, the largest religious organization in Iceland, responded to say that the Church of Iceland does not contribute money or personnel to the Festival of Hope. The festival is not a joint project between Graham's association and the Church of Iceland, but rather Graham's association and "churches in Iceland."
"The church has not endorsed Franklin Graham in any way," Daníelsson said in an email. "The English text on the website of the Festival of Hope is misleading because it speaks about 'the Icelandic church' and the 'Churches of Iceland.' I assume this refers to the congregations and churches that have accepted the offer to become active participants in the Festival of Hope."
Original Post:
Icelanders are outraged that Franklin Graham is holding a festival in Reykjavík next month, but they're literally not taking it sitting down.
In a social media-fueled protest against the avowed anti-gay-marriage evangelist, Iceland residents are reserving hundreds of tickets to Graham's sermons with the intention of leaving the seats empty.
The protest was reported Thursday on Visir, an Icelandic-language website. The report was confirmed to the International Business Times by Eygló Svala Arnarsdóttir, a deputy and features editor for Iceland Review magazine.
Arnarsdóttir had not heard of the protests, but she said in an email that Graham's pending arrival in the small island nation is causing no shortage of controversy.
"This is certainly a heatedly debated issue in Iceland at the moment," she said.
Graham is set to appear Sept. 28-29 at the Festival of Hope, which he reportedly organized at the request of Icelandic churches. The event is free, but, according to the website, attendees may reserve as many as four tickets in advance. They may also make special requests for groups of 20 or more.
Shortly after tickets became available Wednesday, users on Facebook, Twitter and Reddit began spreading the word that protesters were reserving seats for the event, but not planning to show up. Protesters say the goal is to leave the controversial Graham with an empty venue when he appears at Reykjavík's Laugardalshöll arena next month. One Icelandic software developer, Elvar Thormar, wrote on Facebook that he'd reserved 500 tickets.
According to the Icelandic ticketing website Midi.is, the event was already sold out Friday, when all available tickets had already been reserved.
In response to a Twitter inquiry, one Icelander told the IBTimes that most people who reserved seats don't plan on going, but that the protests haven't spilled over into the real world.
Members of Samtökin ´78, Iceland's national gay-rights organization, also participated in the protest. Anna Pála Sverrisdóttir, the group's president, told the IBTimes in an email that she believes the idea was first suggested by a "middle-aged man in the countryside." She went on to express general outrage over Graham's planned appearance and said she hopes that most seats at the event will be empty.
"That man is clearly a dangerous, professional homophobe," she said.
Graham is the son of Billy and Ruth Bell Graham, and currently the head of the Billy Graham Evangelistic Association. He is an outspoken opponent of same-sex marriage and supported an amendment to ban it in his home state of North Carolina. When U.S. President Barack Obama came out in support of gay marriage in May of last year, Graham released a statement calling it a "sad day for America."
"The institution of marriage should not be defined by presidents or polls, governors or the media," Graham said. "The definition was set long ago and changing legislation or policy will never change God's definition."
Gay marriage has been legal in Iceland since 2010. Even the Church of Iceland's bishop, Agnes M. Sigurðardóttir, is supportive of gay rights, as Gay Iceland reported last year.
According to the Festival of Hope website, the event is a joint project between the Billy Graham Evangelistic Association and Icelandic churches. The association is shouldering a significant portion of the costs, but "the Icelandic church is expected to contribute significantly through personnel, finances, and other means."
A Church of Iceland representative did not respond to a request for comment before publication.
Correction: An earlier version of this story said the Festival of Hope is a "joint project between the Billy Graham Evangelistic Association and the Church of Iceland." A representative of the church responded to clarify that the English text on the Festival website is misleading, and that the Church of Iceland contributes no money or personnel to the Festival.
Got a news tip? Send me an email. Follow me on Twitter: @christopherzara
© Copyright IBTimes 2023. All rights reserved.