Igor Vovkovinskiy, Tallest Man In The United States, To Receive A $20,000 Pair Of Shoes From Reebok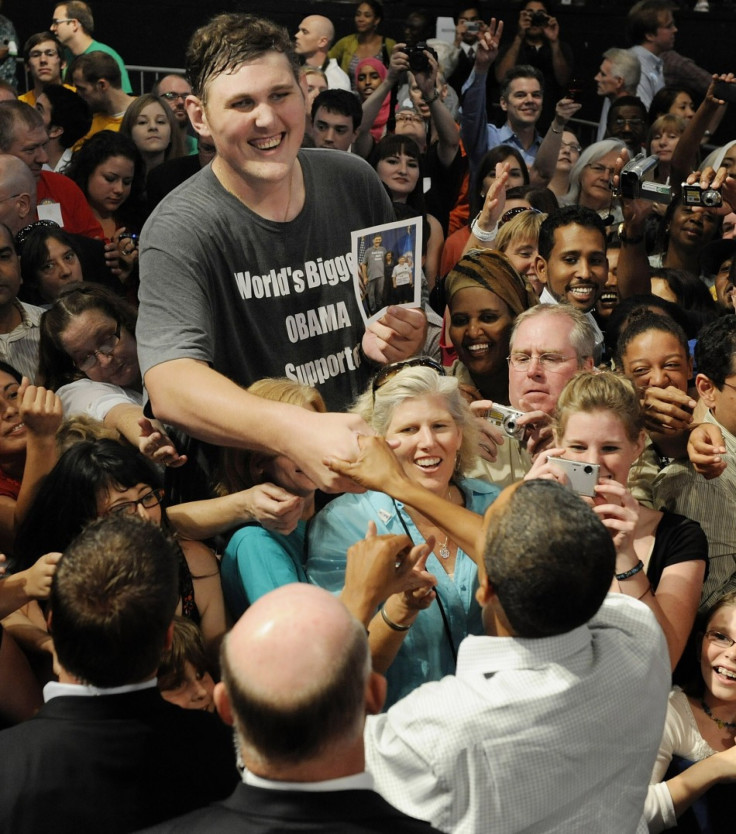 Being the tallest man in the United States is no small task for Igor Vovkovinskiy. For years, he has endured sore feet as he could not find shoes appropriate for his large demeanor, however, Reebok has offered to lend a helping hand.
Vovkovinskiy, 29, is 7 feet 8 and one-third inches tall. Initially, experts believe his shoes size is anywhere between a 22 and a 25, a shoe size that can't be found easily. The average shoes size for a male is about a 10.
I haven't been able to go for a normal walk for six years now, said Vovkovinskiy, reported the Boston Herald.
Vokkovinskiy's shoe problems have left the Ukraine native with many foot problems, requiring him to get at least 16 surgeries. The surgeries forced him to bed rest, during which time his muscles weakened and gained weight.
Living the last six years has been a nightmare basically, he said, reported the Australian.
The lack of proper footwear has also affected him emotionally and he began to feel disillusioned.
No matter what company I write to, or how many friends of mine ask companies to help me ... nobody wants to help if there is no benefit for them, he said in an interview with the Bellingham Herald on May 1.
Yesterday, however, he took to Facebook share some exciting news.
I can break the news!!!, he posted on his shoe donations page. Reebok is making shoes for me!!!!!! I am in Boston. Coming home tomorrow very early in the morning. God Bless @Reebok thank you so much.
The Canton, Mass. based organization, Reebok, has reached out to Vovkovinskiy, who began raising money through a social media campaign, reported the Herald.
For several years, he wore orthotic shoes that lacked proper arch support and grips.
The shoe designers at Reebok decided to custom design a pair of shoes that will be size 26. Reebok has decided to donate the shoes that are expected to run the company $12,000 to $20,000.
Up until six years ago, I used to consider my life pretty normal, said Vovkovinskiy, who has a condition called pituitary gigantism, according to the Boston Herald. Right now, doing the simplest thing, like walking a few steps down the hallway, is ... excruciating. Living these last six years has been a nightmare. I've basically been a prisoner of my home.
However, this is expected to be a long process. It will take the company about six weeks to create the shoes and for Vovkovinskiy to test them out. Then, Reebok will have to adjust the product, reported The Australian.
However, Vovkovikiy is will to wait a little longer for something he really wants to do.
I look forward to just going for a walk with my dog, just walking around the neighborhood.
© Copyright IBTimes 2023. All rights reserved.