Indiana 'Anti-Gay Law' Boycott: SB101 Could Cost Indiana Economy $256.4 Million In Six Years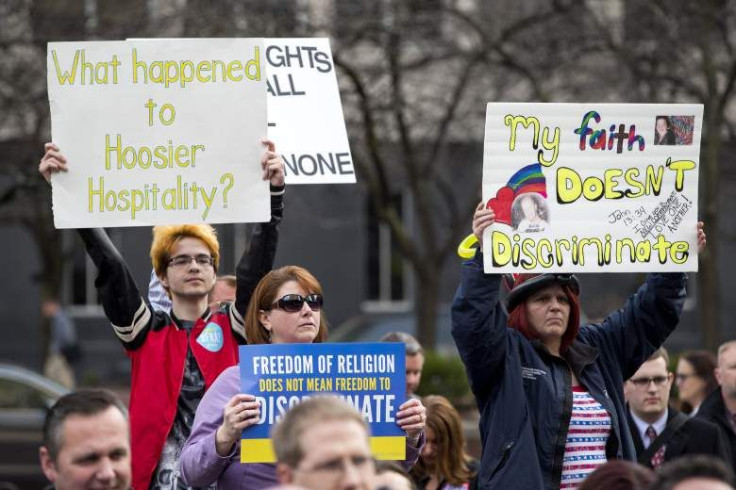 Major businesses boycotting a new religious freedom law in Indiana could cost the state's economy some $256.4 million and counting over the next six years, according to the Center for American Progress. The so-called Religious Freedom Restoration Act, which Republican Indiana Gov. Mike Pence signed into law last week, is widely viewed by opponents as granting business owners a license to discriminate against the LGBT community.
Several well-known businesses -- including Angie's List and the American Federation of State, County and Municipal Employees (AFSCME) -- have said they will protest SB 101 by eliminating or dramatically reducing spending in Indiana. Angie's List, a popular website that crowdsources ratings for services, canceled its headquarters expansion in Indianapolis on Sunday, which cost the state $40 million and 1,000 jobs. AFSCME, one of the largest labor unions in the country, said Monday it would not hold its women's conference planned for October in Indianapolis, costing Indiana $500,000.
"This un-American law allowing businesses to refuse service to gay and lesbian customers sets Indiana and our nation back decades in the struggle for civil rights. It is an embarrassment and cannot be tolerated," AFSCME Pres. Lee Saunders told ThinkProgress, a liberal political blog, in an email Monday.
Indiana is at risk of losing valuable business with several other companies and associations such as the NCAA and the Christian Church (Disciples of Christ) denomination, which have said they might reconsider future economic activity and events in the state because of the new law. "For us personally in the NCAA, this is a big deal. We're proud of our inclusive environment in our office," NCAA President Mark Emmert told ESPNU Monday. "We have to say, what are we going to do if this law goes into effect in July and what's our relationship with the state of Indiana going to be?"
The NCAA is based in Indianapolis and is scheduled to hold its men's Final Four basketball games there this weekend, pumping a collective $96 million into the local economy. (The women's Final Four is scheduled to be played there in 2016.) Local officials also fear the Big Ten might relocate its annual events because of SB 101, according to SB Nation. Big Ten football and basketball tournaments, which are regularly hosted in Indiana, each generate between $2 million and $16 million per year.
"Discrimination of any kind is wrong, regardless of the economic impact. But it is also clear that anti-LGBT discrimination is bad for business and bad for the nation's economy, which is why a large majority of Fortune 500 companies ban LGBT discrimination," Sarah McBride and Laura Durso of the Center for American Progress said in a report Tuesday.
© Copyright IBTimes 2023. All rights reserved.