International Women's Day 2022 Quotes: 25 Sayings That Empower Women
International Women's Day represents the time of year to celebrate the cultural, economic, social, and political achievements of women.
The theme for this year's celebration will be "gender equality today for a sustainable tomorrow," according to the United Nations.
The theme will recognize the contribution of women and girls who are leading the charge on climate change and the importance of gender equality.
The U.N. will observe the holiday on Tuesday morning with a virtual event featuring celebrities, UN representatives, and gender equality and climate change activists.
International Women's Day was first honored in 1911 and continues to be celebrated annually around the world.
Those planning to celebrate International Women's Day 2022, can consider sharing these 25 empowering quotes from Goodreads and Parade below:
"Well-behaved women rarely make history." ― Eleanor Roosevelt
"When they go low, we go high." ― Michelle Obama
"Women are the largest untapped reservoir of talent in the world." ― Hillary Clinton
"The only person that deserves a special place in your life is someone that never made you feel like you were an option in theirs." ― Shannon L. Alder
"A girl should be two things: Who and what she wants." ― Coco Chanel
"And one day she discovered that she was fierce and strong, and full of fire and that not even she could hold herself back because her passion burned brighter than her fears." ― Mark Anthony
"Where there is a woman, there is magic." ― Ntozake Shange
"Women belong in all places where decisions are being made. It shouldn't be that women are the exception." ― Ruth Bader Ginsburg
"If you want something said, ask a man. If you want something done, ask a woman." ― Margaret Thatcher
"Don't be afraid of who you are. Say what you wish. Be who you wish. Don't try to be someone else. You don't want to catch a man who wants me. You want to catch a man who wants you." ― Tricia Levenseller
"There is nothing stronger than a broken woman who has rebuilt herself." ― Hannah Gadsby
"Respect, love, and value yourself. Always remember to be good to yourself by taking care of yourself. Make yourself a priority and know that it's okay. Don't feel guilty for loving yourself, first! You're just as important as anybody else." ― Stephanie Lahart
"There's something about a woman with a loud mind that sits in silence, smiling, knowing she can crush you with the truth." ― R.G. Moon
"Women's work is never easy, never clean." ― Tayari Jones
"What's the greatest lesson a woman should learn? That since day one, she's already had everything she needs within herself. It's the world that convinced her she did not." ― Rupi Kaur
"Don't raise your girls to be porcelain roses protected behind a cabinet's glass sliding doors. Raise your girls to be wild roses growing on mountaintops, exposed to the sunlight and to bees. I give you this guarantee: that life requires the latter and the prior is a myth." ― C. JoyBell C.
​​"I believe in being strong when everything seems to be going wrong. I believe that happy girls are the prettiest girls. I believe that tomorrow is another day, and I believe in miracles." ― Audrey Hepburn
"There's nothing more reassuring than the sight of a confident woman." ― Abhijit Naskar
"Think like a queen. A queen is not afraid to fail. Failure is another stepping stone to greatness." ― Oprah Winfrey
"You were born to be unique, so begin to accept the 'standing out' is good." ― Melita Murray-Carney
"Yes, she knows pain, but she is strong. Her heart knows no other way." ― A.R. Asher
"Every woman has within herself the power to do whatever she puts her mind to." ― Adriana Vandelinde
"She has been through hell, so believe me when I say, fear her when she looks into fire and smiles." ― E. Corona
"Having a high level of belief in what you can do and the devotion to doing it is a powerful combination for getting exactly what you want." ― Jennifer Crowley
"A strong woman looks a challenge in the eye and gives it a wink." ― Gina Carey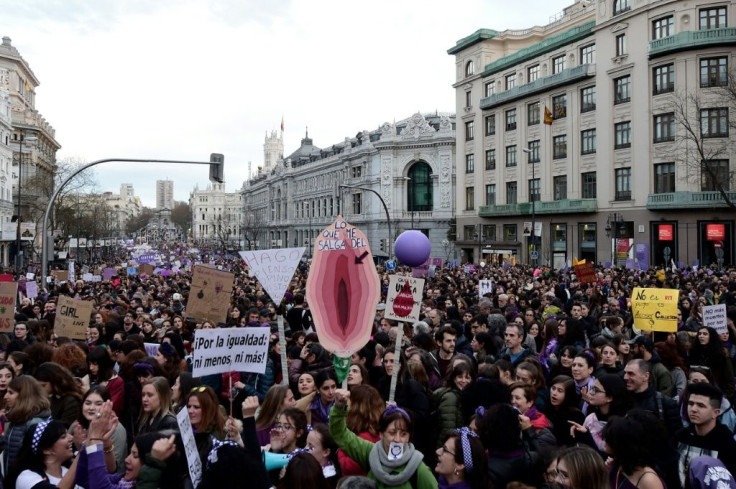 © Copyright IBTimes 2023. All rights reserved.