With iPhone 4s, Is Apple's Stock Headed to $525 and Beyond in 2012? - Stock Review
Analysis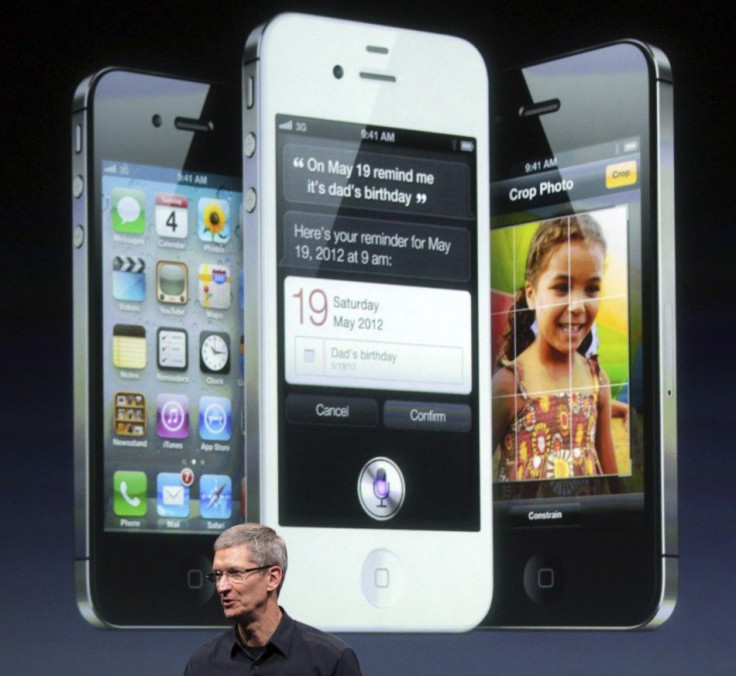 The shares of Apple (AAPL) have resumed their uptrend, as expected, and I obviously still like the shares at this stage.
What's more, with a P/E of about 15, Apple is not cheap, but it's not overly expensive, hence now may be your last chance to catch this train before it leaves the station: I see a revised $525 Apple price by mid-2012, and higher levels after that.
The IPhone 4s: It's A New Sensation
Just put Apple's iPhone 4S in the category of a new sensation, and it's one that bodes well for Apple's shares, first discussed here on Sept. 25, just after the shares closed the weekend at $403.30. I'm obviously reiterating my Buy call.
The licensing of Apple's (AAPL) iPhone 4S to much-criticized, Rodney Dangerfield-esque cellphone service provider Sprint (S) -- Sprint gets no respect -- not only has the capacity to rejuvenate Sprint, it's also sparking an iPhone 4S wave in the cellphone service provider sector.
In other words, what's occurring now in the sector is nothing short of a renaissance -- one that is attracting new minds (translation: subscribers) that previously hadn't considered the iPhone 4S or even a smartphone, and one that bodes well for Apple's shares.
Most investors know that the past 10 years, and in particular the lost decade of 2001-2008, was difficult for investors, but there are always companies that manage to outperform competitors and shine, and the iPhone 4S-clad Apple is one of them.
Apple's shares Friday closed up $4.37 to $422.40.
The iPhone 4S is also the last chance to buy a product developed by the late, great innovator, Steve Jobs. Simply, he was the Thomas Edison of our age and he left this life far too soon.
iPhone 4S: A Revenue Booster
Look for Apple's fiscal 2012 revenue to surge 25 to 30 percent -- and this is after a 67 percent revenue jump in fiscal 2011, boosted by the aforementioned iPhone 4S wave, and strong unit sales of the iPad and MacBook (Apple's name for laptops).
What's more, the above-mentioned robust sales trend means iTunes revenue will also increase at an impressive rate in fiscal 2012, as Apple's hardware sales lead to more downloads of apps, music and movies. Shipments of iPads, MacBooks and iPhones will be strong. Also, a revised iMac should help shipments in that category, as well.
The lone negative in Apple's line-up? The iPod, whose market share will likely decline, due to market saturation and Apple's huge market share in the sector.
The Thomson Reuters First Call FY2012/FY2013 EPS estimates for Apple are $34.73 to $38.93, respectively. That FY2012 earnings per share estimate looks about 10 percent too low, and the FY2013 EPS estimate looks about 10 to 15 percent too low, according to my analysis.
Reuters also expects Apple to register FY2012 revenue of $139.5 billion, and FY2013 revenue of $161.0 billion.
Margins should widen from about 40 percent in fiscal 2011, as Apple ramps up iPhone and iPad production, benefits from economies of scale and eliminates inefficiencies detected in the ramping up process.
Meanwhile, Apple's cutting-edge design capabilities, product durability, marketing prowess and strong free cash flow can scare off only the lowest-risk investors.
Apple is that rare technology company you can buy for your kid's college fund and in 10 years, you'll be glad you did. That's a testament to founder Steve Jobs -- an American icon.
Technical Analysis: Technically, Apple's shares have handled the U.S. stock market's recent gyrations well. The stock uptrended in 2011, but with above-average volatility, from about $310 to $420. Equally significant, Apple's shares have moved back above the key 50-day moving average -- a bullish sign. There is some concern about resistance at/near $425-430 but the calculation forwarded here is that uptrend is stronger and should prevail.
Stock Category: As noted, an iPhone 4s-clad Apple is an exception to the tech sector rule that argues against adding tech stocks to your kid's college fund. Apple is battle-tested and symbolizes U.S. innovation capabilities. Its shares are headed north, assuming even sluggish 2012 U.S. GDP growth. And as of the latest U.S. economic data, the U.S. will likely record better-than-tepid GDP growth of 2.5 percent in 2021. There's also a 2 percent chance you'll lose your entire investment with Apple over a 10-year period.
2012 Outlook: I view Apple as a long-term play, but if you're looking to sell within the year, it's probably best to take your profits after it rises to between $485 and $500, if it fails to rise above $500.
Stock Analysis: Apple is a moderate-risk stock. If an investor has already purchased the company's shares, I'd hold them. If not, I'd consider buying a 50 percent position now; then buy another 50 percent in one month, if U.S. economic conditions don't worsen substantially. I'd put a sell/stop loss order at: $280.
- -
Disclosure: L.C. Jacobs of New York, N.Y. reviews stocks on a quarterly, semi-annual, and annual basis.
L.C. Jacobs has no positions in stocks reviewed, but does own federal, municipal, and corporate bonds.
To see additional stock reviews by L.C. Jacobs, click here.
To contact L.C. Jacobs about this stock review, write to: stockreview@mail.com.
--
© Copyright IBTimes 2023. All rights reserved.