Israel Enacts Skinny-Model Ban Requiring Body Mass Index of 18.5; Is This A Necessary Step? [POLL]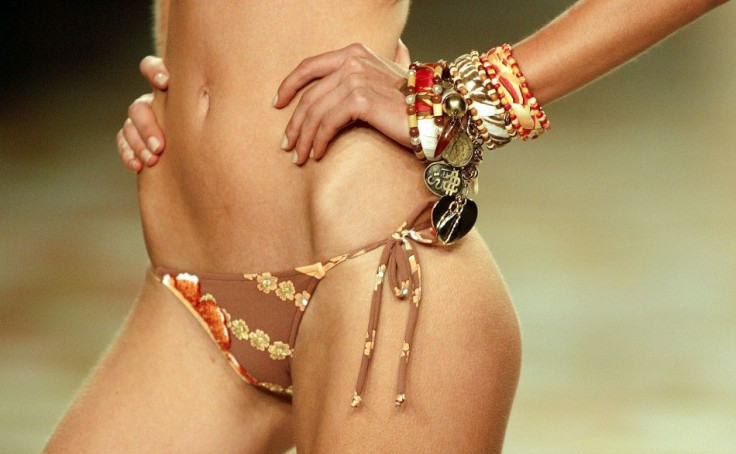 Israel is moving closer to eliminating potentially dangerous physical standards in the country's fashion industry with a law that bans too-skinny models from working unless they meet a specific body mass index (BMI).
The new law, passed Monday, requires that both male and female models in Israel have a BMI of at least 18.5, according to Yahoo! News. This number is determined based on a proportion of height-to-weight and is used by the World Health Organization. A medical report from a doctor stating that a particular model is not underweight is also permissible. The WHO dictates that any BMI under 18.5 is considered underweight and any BMI 16 or under is considered severe thinness. Therefore, a model who is six-feet tall must weigh at least 136.5 pounds and a model who is five-feet, eight-inches must weight at least 119 pounds.
The skinny model ban also prohibits the use of models who look underweight in advertisements, reported Yahoo! News. Developers of advertisements in Israel must disclose whether or not they used Photoshop or digital alterations to make the model look thinner.
We want to break the illusion that the model we see is real, Liad Gil-Har, assistant to law sponsor Dr. Rachel Adato, told the New York Daily News. In Israel, approximately two percent of girls between the ages of 14 and 18 have severe eating disorders, according to a study by anthropologist Sigal Gooldin.
Israel's skinny model ban was championed by Adi Barkan, one of the country's top model agents, according to the NY Daily News. According to him, young women have become skinnier and sicker while struggling to fit the shrinking model of what the industry considered attractive.
They look like dead girls, Barkan said.
Beautiful is not underweight, Rachel Adato, a lawmaker who voted for the bill, told Reuters. Beautiful should not be anorexic.
The fashion industry seems to be shifting towards a much healthier stance. During New York Fashion Week in February, the CFDA, headed by Diane Von Furstenberg, issued new guidelines tailored to cull underage and underweight models from walking the runways. The new CFDA guidelines included ways models can stay healthy during New York Fashion Week 2012. It also included regulations like official-ID checks, to ensure that no one under the age of 16 walked the runways.
Von Furstenberg has pioneered the CFDA's Health Initiative for the past five years. These most recent guidelines take yet another giant stride in a conscientious direction. Designers generally produce only one sample size for the runway, and in the last decade there has been a dramatic downward shift in the sample size of some of the top design houses, Von Furstenberg wrote in her CFDA guidelines.
As a result, models are under increasing pressure to be thinner and thinner, and younger and younger. The industry's hiring of prepubescent-appearing teenage girls as models of adult clothing sets an unrealistic standard; hips and breasts, the curves that define the female figure, are absent. Some models have difficulty maintaining the body ideal as they move into adulthood and run the risk of engaging in unhealthy eating behaviors that lead to eating disorders.
While some models are naturally tall and thin and their appearance is a result of many factors... other models have or develop eating disorders. Although we cannot fully assume responsibility for an issue that is as complex as eating disorders and that occurs in many walks of life, the fashion industry can begin a campaign of awareness and create an atmosphere that supports the wellbeing of these young women.
The CFDA's campaign to promote the concept of a healthy mind in a healthy body is off to a great start and - with growing support from the fashion community - holds the promise of a healthier standard of beauty, she concluded.
These guidelines were released after a highly-circulated article written by PLUS Model Magazine detailed the dangerous standards in the industry today:
- Twenty years ago the average fashion model weighed 8% less than the average woman. Today, she weighs 23% less.
- Ten years ago plus-size models averaged between size 12 and 18. Today the need for size diversity within the plus-size modeling industry continues to be questioned. The majority of plus-size models on agency boards are between a size 6 and 14, while the customers continue to express their dissatisfaction.
- Most runway models meet the Body Mass Index physical criteria for Anorexia.
- 50% of women wear a size 14 or larger, but most standard clothing outlets cater to sizes 14 or smaller.
Curvy might be making a comeback with models like Kate Upton, Lara Stone and Crystal Renn and actresses like Sofia Vergara and Christina Hendricks gaining popularity. Even magazine editors are taking notice.
I come from a business where the perennial question is 'Are you beautiful in a fashion sense or in a beauty pageant sense or beautiful-girl-next-door sense?' Stephen Gan, V magazine's editor in chief, told the New York Times. And I feel like, why can't we try to find something that's a little bit different? If you've ever looked at pictures of Jean Harlow up close, she had the same curves as Kate Upton, the same silhouette, and she was the definition of beauty at the time.
<a href=http://polldaddy.com/poll/6061938/ mce_href=http://polldaddy.com/poll/6061938/>Israel Bans Too-Skinny Models</a>
FOR FREE to continue reading
✔️ Unlock the full content of International Business Times UK for free
offer available for a limited time only
✔️ Easily manage your Newsletters subscriptions and save your favourite articles
✔️ No payment method required
Already have an account? Log in
© Copyright IBTimes 2023. All rights reserved.