James Murdoch Resigns: Who is Rupert's Next-in-Line as News Corp. CEO?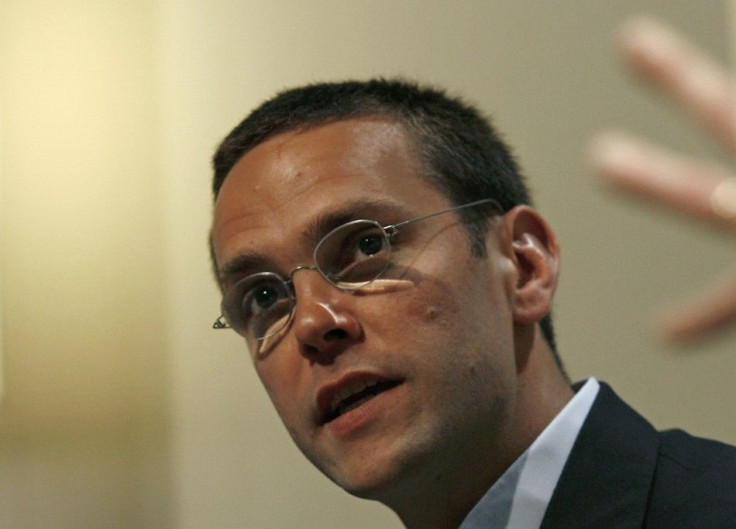 James Murdoch resigned from his position as executive chairman of News International on Wednesday amid a phone-hacking scandal that has sent shockwaves through the media empire of his mogul father, Rupert Murdoch. The question now is: Who is next in line to succeed Rupert?
Though the story of James Murdoch's resignation was neatly packaged for P.R. purposes as a natural part of his year-old plan to move to the company's New York headquarters, the truth is likely less amicable, as he was facing incredible scrutiny as a leading figure in the news organization's metastasizing phone hacking scandal.
So the unavoidable truth is that James Murdoch has likely sealed his fate as a man no longer fit to be Rupert's heir as CEO of News Corp. at the end of a long fall from grace that began nearly a year ago with the closure of tje News of the World tabloid and the arrest of 12 of its former staffers.
Here's our lineup of the people with the best chances of moving in as next in line to run the Murdoch empire (though not to inherit the family's money):
1. Chase Carey: Though James Murdoch hadn't yet been forced out of his position with News International, his father seems to have sensed the winds of change a-blowing and chose to name Carey as the man on whose shoulders he would be most willing to leave his empire.
Chase is my partner and if anything happened to me I'm sure he'll get it immediately -- if I went under a bus. But Chase and I have full confidence in James, Murdoch was quoted as saying in August by Reuters.
Though the comments are cryptic and the message veiled, industry analysts took the remarks as an indication that he had selected Carey over his son as the best man to run his companies once he is gone.
Chase, the president, deputy chairman and operating chief of News Corp., is already involved in much of the day-to-day work of running Murdoch's holdings. It wouldn't be unreasonable to expect to see him in the CEO's chair once the 80-year-old Rupert Murdoch has abdicated it,whether by choice or by circumstance.
2. Lachlan Murdoch: Though Lachlan, another of Rupert Murdoch's four children, stepped down at the age of 34 from his post as deputy chief operating offficer at News Corp. and publisher of the New York Post in August 2005, he may still rise again as the heir to all that is Murdoch media.
He said he stepped down because of his yearning for Australia and his need to spend more time with his family, according to the New York Times, but with his brother on the way out, he may see an opportunity to come back into the family business. It may be more appealing to angle for the top spot when you're the only guy with the last name Murdoch remaining in the fight. And kids grow up, and time to spend with them dwindles, leaving more time for professional pursuits.
And his father may have him yet. Lachlan Murdoch did a pretty fine job of keeping his hands relatively clean of the phone-hacking scandal by simply not being part of the company. And his father said for years that he wanted one of his children to succeed him at the helm of News Corp. Given that Lachlan is the second-most-experienced of his four offspring in running media conglomerates, he may yet rise to the title of News Corp. CEO.
3. Wendi Deng: Deng served as an executive in News Corp.'s Asian satellite-TV division before marrying Rupert Murdoch in 1999. Since then, the Chinese-born businesswoman has only increased her stock with News Corp., literally and figuratively. As Murdoch's wife she is his closest confidante and strongest backer, and she has even given him two children, Grace Helen and Chloe, born in 2001 and 2003, respectively.
In becoming so close to Rupert Murdoch, she has reaped many benefits, from a likely spot on his will to an intimate portrait of success at the highest levels of business, something which can not be taught and which Rupert may hold in high esteem.
Deng has led new projects for News Corp. even since her marriage to Rupert Murdoch, including leading the company's charge to get Chinese customers interested in the MySpace social networking Website.
Deng has caused some tension in the family, and Rupert Murdoch has not gone against her in negotiations over a Murdoch family trust that caused a division between Deng and her two daughters with Rupert, and James and Lachlan Murdoch. The Deng daughters were given voting rights in the trust, which displeased the Murdoch sons, and may have contributed to Lachlan Murdoch's decision to step down from his father' media empire in 2005.
4. No one: The other obvious, but unsavory, choice for who Murdoch will choose as his successor is: no one. If things go as they have now for years, News Corp. may suddenly find that there is nothing but hazy platitudes and inconclusive statements by Rupert to go by, if he were to lose the ability to make decisions due to an unforeseen health condition, or, God forbid, death.
As Business Day wrote in 2009: The main News Corp game now, however, is whether Murdoch is prepared to back a successor, a move he must make if he wants to secure family control. And if he doesn't, prepare for a free-for-all of lawsuits, interpretations and feuds that will leave the helm of News Corp. empty for longer than Rupert would ever want to see. Better make a decision, Mr. Murdoch.
© Copyright IBTimes 2023. All rights reserved.