'Jane The Virgin' Season 1 Spoilers: Episode 4 Synopsis Released; What Will Happen In 'Chapter Four'?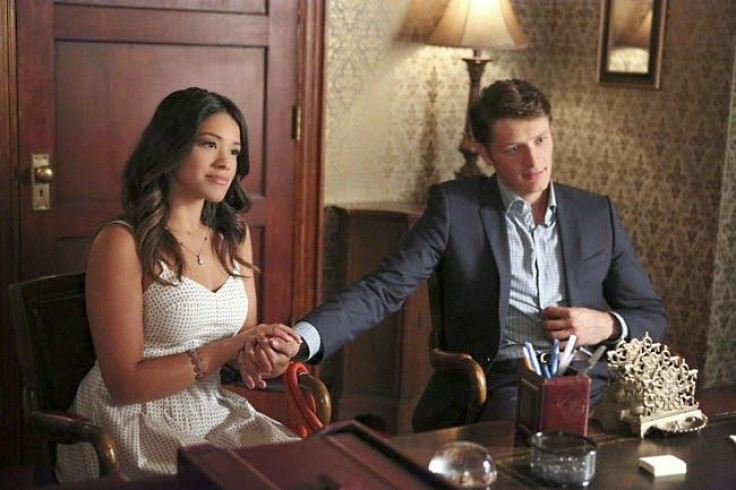 Things are really going to heat up on "Jane the Virgin" when episode 4 of the CW series airs Monday. According to the Season 1 synopsis for "Chapter 4," Jane (Gina Rodriguez) will start questioning her relationship with Michael (Brett Dier) when she starts having some erotic dreams about another man. And can you guess who will star in Jane's titillating fantasies? According to reports, it will be none other than the gorgeous Rafael (Justin Baldoni), the man who also happens to be the biological father of Jane's accidentally inseminated baby.
"Jane experiences guilt concerning her feelings for Rafael," the summary teased, adding that she'll address the issues during her pre-wedding counseling with Michael.
"We're getting married in six days and you're fantasizing about another guy?" Michael questions her in the promo video for episode 4. But according to Parents magazine, Jane might not be at fault for her sexy imagination. Advice expert Holly Robinson told the publication it's not uncommon for women to experience wild dreams during their pregnancies.
"Extra blood flow to your genitals, raised estrogen levels that increase vaginal secretions, and sensitive, enlarged breasts mean your sex drive may be raging. The result? Your pregnancy dreams may reflect your joys and fears about your body in some unexpectedly lusty ways," she revealed.
But that doesn't explain how Jane will end up fully clothed in a pool with Rafael. In the promo video for episode 4 of "Jane the Virgin," Jane is caught completely off guard by the heartthrob, which will result in the duo doing backstrokes in the hotel pool. Rafael appears to have jumped in after Jane (clothes and all), proving this might not only be a one-sided crush after all.
But that's not all viewers can expect in next week's episode of "Jane the Virgin." The summary teased that Rafael and Petra (Yael Grobglas) will come face-to-face with someone from their past that they're not too happy to see. "Meanwhile, Rogelio (Jaime Camil) learns about Jane's impending nuptials and pushes Xo (Andrea Navedo) to let him be part of his daughter's wedding." That is, if the wedding is still on!
Tune in to "Jane the Virgin" when episode 4 of Season 1 airs Monday, Nov. 3, at 9 p.m. EST to find out if wedding bells are still in Jane's future.
© Copyright IBTimes 2023. All rights reserved.