Japan Earthquake 2012: Tokyo Airport, Bullet Trains Close After 6.8 Quake, Small Tsunami Strikes [VIDEO]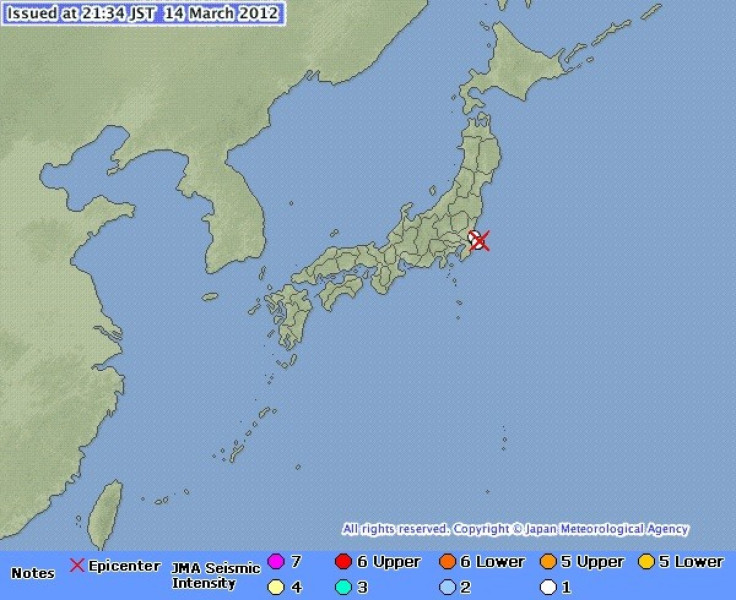 A year after the worst post-war natural disaster in Japan, an earthquake and several other quakes followed by a tsunami struck Japan's northern coastline on Wednesday according to officials, prompting closings at Tokyo's Narita International Airport and trains.
According to the Japan Meteorological Agency, the first quake was magnitude 6.8 located on Hokkaido island, 146 miles south of Kushiro, Japan, six miles below the sea surface. The second was 6.1 off the coast of Chiba just east of Tokyo, where a moderately strong 5.7 quake was felt three hours later.
No damage or injury was reported, according to The Associated Press, after an aftershock of 6.1 magnitude followed, as reported by the National Post.
The earthquake resulted in a 20 centimeter tsunami on the Pacific coastline, the region where a devastating earthquake and struck Japan last year, prompting an evacuation for coastal residents in Hokkaido. A Pacific-wide tsunami warning was not issued, though Japanese officials predicted a tsunami as high as 50 centimeters.
Two runways at Tokyo's Narita International Airport and bullet trains in northern Japan were closed as a result of the earthquake, according to the National Post.
Otsuchi, along with several others towns, issued a precautionary evacuation order to homes along the coast before the initial earthquake, according to prefectural disaster management official Shinichi Motoyama.
There have been no reported about damages to nuclear facilities and plants resulting from Wednesday's earthquake. According to the National Post, the Tokai No.2 nuclear power plant northeast of Tokyo and the Tokyo Electric Power Co's tsunami-hit Fukushima Daiichi and Daini plants were unaffected.
We have not monitored any change in radiation levels around the facilities following the quake, a spokesman for Tohoku Electric Power told the National Post.
The 2012 earthquake comes just days after the first anniversary of the magnitude 9.0 earthquake and tsunami struck Japan on March 11, 2011, resulting in over 19,000 people reported dead or missing and destroying Japan's Fukushima nuclear plant. Japan paid tribute to the lives lost on Sunday for the first anniversary.
The Japan Meteorological Agency said a possible tsunami could reach the Kuril islands, off Hokkaido, though tsunami advisories were lifted just over an hour after the second quake. The JMA warns those fishing, swimming and activities of the like should remain cautious as there are still slight shifts in the sea-level.
© Copyright IBTimes 2023. All rights reserved.