Japan Suspends Launch Of 'Moon Sniper' Mission Due To Unsuitable Weather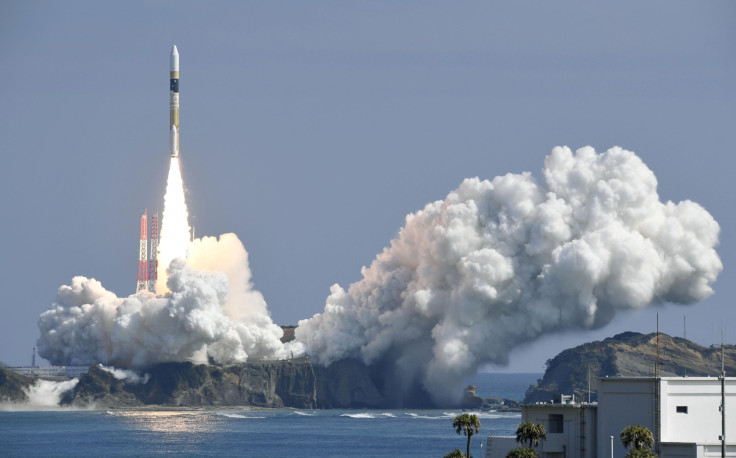 KEY POINTS
The blastoff was due to take place from the southern island of Tanegashima
The launch was suspended less than 30 minutes before the scheduled liftoff Monday
This is the third time since last week that the launch has been rescheduled due to bad weather
Japan's space agency postponed the Monday launch of its "Moon Sniper" lunar mission due to unsuitable weather conditions.
The liftoff of the H-IIA rocket — the Japanese flagship launch vehicle jointly developed by the Japan Aerospace Exploration Agency (JAXA) and Mitsubishi Heavy Industries (MHI) — was scheduled for 9:26 a.m. JST Monday (8:26 p.m. ET Sunday). The rocket was carrying what would be the country's first spacecraft to land on the moon
The blastoff was due to take place from the southern island of Tanegashima, but high upper winds above the launch site forced the agency to suspend its launch less than 30 minutes prior to the scheduled liftoff, JAXA said.
This is the third time since last week that the launch has been rescheduled due to bad weather.
"High-altitude winds hit our constraint for a launch... which had been set to ensure no impact from debris falling outside of pre-warned areas," said MHI H-IIA launch unit chief Tatsuru Tokunaga.
Japan's shot for the moon comes after India's Chandrayaan-3 mission saw a successful soft landing on the moon last week.
A new date for the launch has not been released yet and will likely not occur before Thursday so that there is enough time for necessary processes like refueling, Tokunaga said.
As part of JAXA's bid to land a Japanese spacecraft on the moon, the H-IIA rocket is carrying a Smart Lander for Investigating Moon (SLIM).
SLIM's landing from lunar orbit was planned for January-February 2024 after Monday's launch.
The rocket was also carrying an X-Ray Imaging and Spectroscopy Mission (XRISM) satellite that was jointly developed by JAXA, NASA and the European Space Agency.
"Some of the things we hope to study with XRISM include the aftermath of stellar explosions and near-light-speed particle jets launched by supermassive black holes in the centers of galaxies," said Richard Kelley, XRISM principal investigator at NASA's Goddard Space Flight Center in Greenbelt, Maryland. "But of course, we're most excited about all the unexpected phenomena XRISM will discover as it observes our cosmos."
The Japanese lunar mission is dubbed the "Moon Sniper" because of JAXA's aim of achieving a high-precision landing within 100 meters (roughly 330 feet) of its target on the lunar surface. This is far less than the conventional range of several kilometers.
© Copyright IBTimes 2023. All rights reserved.