Jared Kushner Says A Trump Aide 'Shoved' Ivanka After 'Contentious Meeting' With Ex-Potus
KEY POINTS
In the memoir, Kushner claims that Kelly shoved Ivanka in the main hallway of the White House's West Wing: Report
It says Kelly went to Ivanka's office an hour later to apologize for the incident
John Kelly said he 'does not recall' shoving Ivanka Trump
Jared Kushner, who served as a senior advisor to Donald Trump, has accused his father-in-law's second chief of staff of pushing his wife Ivanka Trump following a "contentious" meeting in the Oval Office.
In his upcoming memoir "Breaking History: A White House Memoir," Kushner said John F. Kelly had just marched out of a meeting with the then president when he shoved Ivanka out of the way. While Kushner noted that Ivanka did not make a "big deal" about being pushed, he said the incident showed Kelly's "true character."
"One day he had just marched out of a contentious meeting in the Oval Office. Ivanka was walking down the main hallway in the West Wing when she passed him. Unaware of his heated state of mind, she said, 'Hello, chief.' Kelly shoved her out of the way and stormed by. She wasn't hurt, and didn't make a big deal about the altercation, but in his rage Kelly had shown his true character," Kushner wrote in the memoir, an excerpt of which was obtained by The Washington Post.
In the memoir, Kushner said Kelly visited Ivanka's office in the West Wing about an hour after the incident to apologize. Kushner cited Julie Radford, Ivanka's chief of staff, as a witness to Kelly's apology.
"It was the first and only time that Ivanka's staff saw Kelly visit their second-floor corner of the West Wing," he wrote.
Ivanka also confirmed her husband's recollection of the incident, calling it accurate, The Washington Post reported, citing her spokesperson.
Kelly slammed Kushner's account in an email to the publication, adding that he does not "recall anything like you describe."
"It is inconceivable that I would EVER shove a woman. Inconceivable. Never happen," Kelly said in the email to the Post. "Would never intentionally do something like that. Also, don't remember ever apologizing to her for something I didn't do. I'd remember that."
Kelly is a retired Marine Corps general who initially joined as Homeland Security secretary before he was tapped to become Donald Trump's chief of staff from 2017 to 2019, replacing Reince Priebus. Kelly is known for imposing strict procedures during his time as chief of staff, including requiring Trump's family members to notify him of any work-related interactions they have with the president.
Kushner's memoir is set to be published on Aug. 23.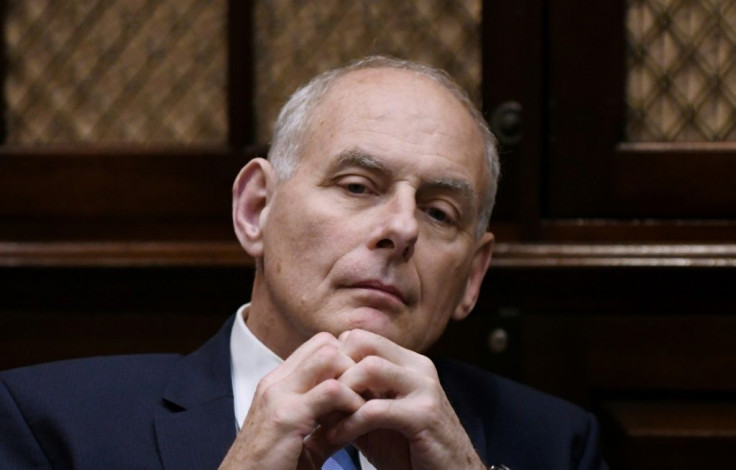 © Copyright IBTimes 2023. All rights reserved.