Jay-Z, Kanye West 'Watch the Throne' Rejects Tradition in Singles Released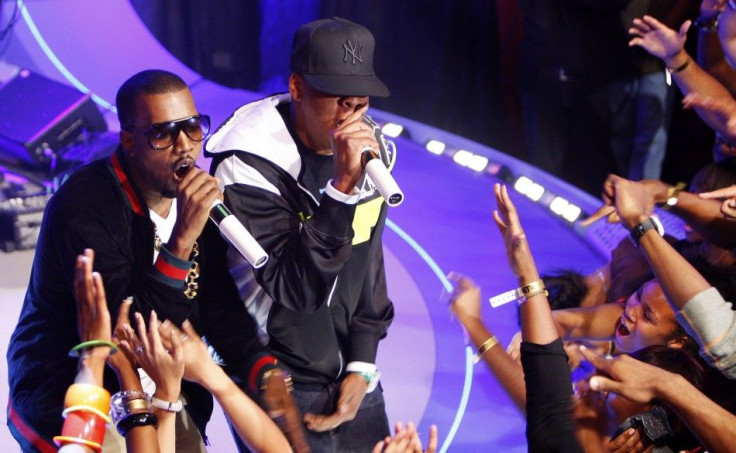 Jay-Z and Kanye West are on a role with their teamed album and promotions.
The "Watch the Throne Tour" begins on Sept. 22 in Detroit. 24 dates and several cities including Toronto, Chicago, San Jose, Los Angeles, Dallas, Boston, Atlanta, Philadelphia, Vancouver and East Rutherford are on the list for tour stops--and reports suggest that there are more to come!
The whole album is the product of true collaboration between Roc-A-Fella / Def Jam Recordings / Roc Nation album and was recorded all around the world in over one year. Obviously, details on the album before its release was kept under wraps, but those who heard a bit of the tracks said that it is a "masterpiece." Featured vocals include Jay-Z's wife and hip hop diva--Beyonce, Frank Ocean, Curtis Mayfield, and Mr. Hudson.
Since the album's release on August 8, the duo's promotion of the album has been highly unconventional. Instead of releasing a lead single for radio play before the drop of the album, Jay-Z and Kanye have skipped that tradition.
They released the track,"H.A.M," as the lead single, but then they came out with "Otis"--a Redding-sampled track...interesting, but unorthodox. It doesn't stand out as a hit and is not your typical song for radio play. "...it's not a radio record but it's been added on so many different radio stations, which I think is dope," DJ Envy said. "You still play it in the club, and it's a hot record," the Sucker Free and Power 105.1 DJ added.
Some may argue that Jay-Z and Kanye West have enough clout to ignore the the typical radio rules entirely since many are interested in their music regardless of what they deliver. "I think Jay and Kanye could put out an a Capella song and it'll get played," the Shade 45 DJ Statik Selektah told MTV News.
"With Jay-Z and Kanye, they're so iconic that it's not going to make a difference what they decided to do; people are gonna want it," Shade 45's DJ Wonder said. Perhaps they are correct. Jay and Kanye are confident in their skills and even more confident in their fan base to promote and release singles as they desire. And Jay-Z and Kanye's tracks have shown success thus far. Songs including "Lift Off," "No Church in the Wild," and "N---as in Paris" have been trending on Twitter.
DJ Khaled suggested that producing conventional singles for radio play loses the authenticity of the song. "I think people that go in the studio saying, 'I'm making a radio record' is when they start goin' in the wrong direction. It's called, make a great record," he said. "When you start thinking, 'Oh, I should put a little sprinkle and make it radio,' sometimes that hurts you because it's not authentic," he explained.
"They're in a different type of space: It's Jay-Z and Kanye - they're arguably two of the biggest rappers, I wanna say, ever," Hot 97's DJ Kast One said. Millions of fans are excited for the "Watch the Throne Tour" coming to a city near you very soon.
"This is one of those albums that really brings back that new-car smell to hip-hop," Chuck Creekmur, co-founder/CEO of Allhiphop.com stated.
© Copyright IBTimes 2023. All rights reserved.