Jeb Bush 2016: What Young Republicans Think About George W. And His Family Legacy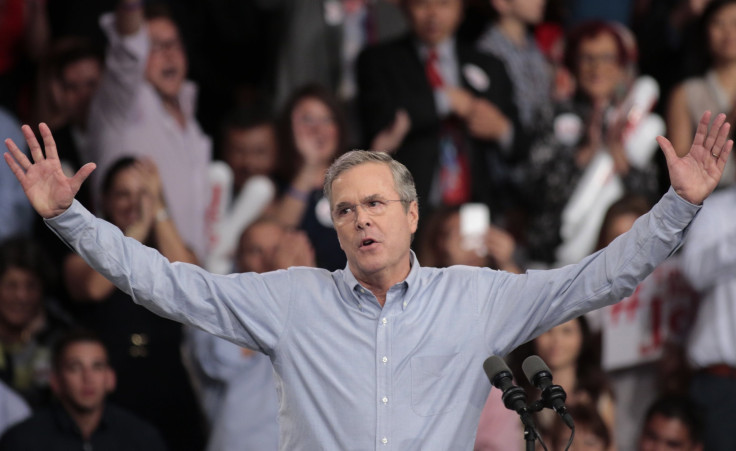 Kyle Stewart remembers his first experience with a presidential campaign. It was 2004, and his elementary school was running an election mirroring the George W. Bush vs. John Kerry race. Stewart, then just 8 years old, pushed hard for Bush -- hanging posters and canvassing the hallways. Bush won the school's election thanks, in part, to Stewart's grassroots efforts.
More than 10 years later, however, Stewart isn't necessarily backing the sibling of George W. Bush -- who, of course, won the 2004 election. Instead, Stewart is leaning toward yet-to-announce Wisconsin Gov. Scott Walker, who he said seems to have less baggage. "Among young Republicans, we don't want it to be the same political families," said Stewart, a college Republican at Ithaca College in New York. "There [are] definitely a lot of young Republicans who want to see new people there."
The Bush family legacy is one of Jeb Bush's most significant hurdles heading into the 2016 race, with even voters who were likely playing with toy trucks and watching cartoons during George W. Bush's two terms in office raising concerns about what it would mean for a third Bush to become president within three decades. It's something Jeb Bush will likely have to address moving forward after his official campaign launch Monday as young GOP backers have increasingly signaled they want new faces to represent the Republican Party. That means if Jeb Bush wants to stand a chance, he will likely have to distinguish himself as a new candidate -- one distinct from his brother, father and the family name in general.
"It's not as if you're looking at Jeb Bush's brand like, 'Hey, that's a fresh, new perspective," said Jamie McKown, a politics professor at the College of the Atlantic in Maine. There might be a Bush hangover, and memories of past -- perhaps unsuccessful -- presidencies that leave young voters thinking, 'Oh, that's the same person from the same family who we've elected all these years,' " McKown said.
The Family Shadow
Jeb Bush served as Florida's governor from 1999-2007. He is known for being a center, less ideological Republican who has called for meaningful immigration reform and has been a backer of Common Core in education. Both stances deviate from far-right stances, and younger voters are often, in McKown's words, more "ideologically committed."
Marilyn Synek, the 19-year-old vice chair of the Nebraska Federation of College Republicans, said Bush's support for Common Core -- a state curriculum model embraced by the federal government-- bugged her. "Being from Nebraska, we're all about state sovereignty and getting big government out," she said.
But his biggest hurdle with some young conservatives is his last name. Bush is tied by blood to two presidents who left office under nonideal circumstances. While George W. Bush has gained some favor since leaving office, he hit a low point of just a 25 percent approval rating in 2008, his last year as president. Democrat Bill Clinton ousted Jeb's father, George H.W. Bush, after just one term.
As it stands, Jeb Bush is lagging with younger voters in the polls. Young Republicans -- age 18-44 -- were mixed on Bush, with about as many holding a favorable view of the candidate as an unfavorable view, according to a Pew poll from last month. Meanwhile, a recent Harvard youth poll of Republican voters age 18-29 found the Republican primary race was largely still up in the air for that age range, with U.S. Sen. Rand Paul holding the slight lead.
Many young voters said they didn't know much about George H.W. Bush, whose time in the White House finished before they were born. But they had heard of George W. Bush and were eager for a new start.
"To be honest I wish [Jeb Bush] wasn't running," Synek said. "I think if he does win the primary, having a Bush against a Clinton would be bad for the Republican Party."
The main issue regarding Bush's family will
likely be the Iraq War
. Young Republicans grew up in a time of news reports blasting the war and Bush's decisions. Synek remembers her parents talking about the Iraq War, which they did not fully support. Her father was raised a Democrat and is now a Republican, while her mother was raised Republican but is a registered Independent.
"They'd be at the picnic table bashing Bush," she said. "I remember turning on the TV and seeing a bunch of people getting shot [in coverage of the war]. … I was so young I didn't really understand."
Fresh Faces
When it comes to young voters, it might be the other 2016 candidates that will hurt Jeb Bush the most in the voting booth. Many student Republicans said they wanted someone new to represent the GOP in the White House.
Caleb Bobo, vice chair of the University of Kansas's chapter of college Republicans, said Bush and Ohio Gov. John Kasich -- who has not yet announced but is expected to run -- were his two favorite candidates. But Bobo said someone else -- like Florida Senator Marco Rubio -- could provide a newer face and stiffer competition for likely Democratic nominee Hillary Clinton. In a dynastic standoff -- Bush vs. Clinton -- Clinton might have the better chance of winning, Bobo said.
Bobo, 20, said he backs Bush largely because of his executive experience as governor. Bush needs to "stick to his guns," especially with his somewhat central policies on education and immigration reform, he said. If nothing else, a positive message can do wonders.
"With young people, we don't want to hear about doom and gloom," Bobo said. A good example? Bobo cited the message of "hope" in the 2008 election that elected Barack Obama, who picked up 66 percent of the young vote.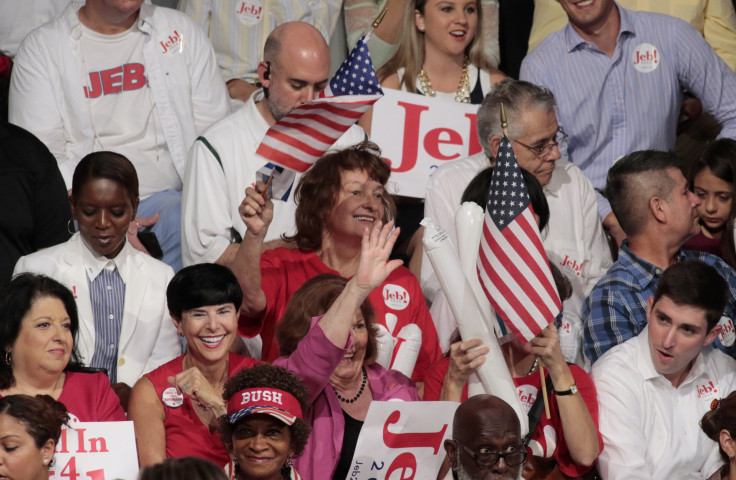 Bush does seem intent on courting a young Republican base that is perhaps leaning away from him. His Monday launch came complete with a Snapchat story, a favorite millennial medium, and he held his announcement at Miami Dade Community College, the nation's largest and most diverse.
"Everyone was excited about the opportunity to reach a broad, younger audience, give people a more authentic view of what happens at an announcement," Bush's communications director, Tim Miller, told Yahoo News.
But Bush's best course of action might be to stick to his guns and differentiate himself from his family, even if it's hard to disagree with them directly. "I think he's going to have to emphasize his own record," said Matthew Corrigan, professor and chair of the department of political science and public administration at the University of North Florida and author of a book about Jeb Bush. Corrigan said Jeb Bush should also continue to utilize his younger sons, George P. Bush and Jeb Bush Jr., who made an appearance at a college Republican convention in Washington last weekend.
Ben Rajadurai, 19, chairman of the Massachusetts Alliance of College Republicans, considers Jeb a "star in the Republican Party" and thinks the name might not be "as big a deal as people are making it." He said it would be tough for Jeb to answer questions about his brother and the Iraq War, but that young voters could come around to voting for him despite his family baggage. "I think young people are smart enough to judge a candidate on their merits," he said.
© Copyright IBTimes 2023. All rights reserved.