Jennifer Aniston Forgives Brad Pitt, Appreciates Support But No Romantic Interest For Ex-Husband
KEY POINTS
Jennifer Aniston has forgiven ex-husband Brad Pitt
Jennifer Aniston appreciates Brad Pitt but not getting back together
Jennifer Aniston and Brad Pitt
Jennifer Aniston has forgiven her ex-husband Brad Pitt but the exes are not getting back together.
Aniston and Pitt got married in 2000 and divorced five years later. There are rumors that the "Ad Astra" actor had an affair with Angelina Jolie, but they denied it. However, Aniston didn't hide her surprise when she saw Pitt and Jolie's photos frolicking at the beach shortly after her separation from the "Once Upon a Time in Hollywood" star.
It has been over 10 years since their split and Pitt and Aniston have already moved on from that issue. In fact, they made a sweet reunion at SAG Awards.
"She has forgiven him for his past mistakes and what he put her through and is 'over it.' Some of her friends are amazed at how she's forgiven him and looked past their history, but she is a good person and doesn't want to hold onto any bad feelings," a source told Us Weekly. "She appreciates having his support, as she would with any close friend in her life, and she is there for him as well."
Although Pitt and Aniston's relationship has improved with Pitt even calling his ex-wife a "good friend," those who want them to rekindle their romance should not get their hopes too high because that is unlikely to happen.
"Jennifer is not interested in Brad in a romantic sense or wanting to get back together with him. They are friends and hang out when they can and that's all there is to it," the insider continued.
Meanwhile, another insider claimed that Pitt and Aniston had zero regrets about their powerful reunion at SAG Awards. The source claimed that the exes were sending a clear message about their deep love for each other.
In related news, there were rumors that Jolie is planning to take revenge on Pitt due to her public reunion with Aniston. The celebrity mom of six reportedly wants to make Pitt's life miserable and everyone is warning Pitt to not push her buttons.
However, fans should take those reports with a grain of salt because the "Maleficent" star is no longer interested in Pitt. Also, another insider claimed that she's moving on and won't let Pitt and Aniston's thing "sting" because she knew that her ex-husband and Aniston are friends.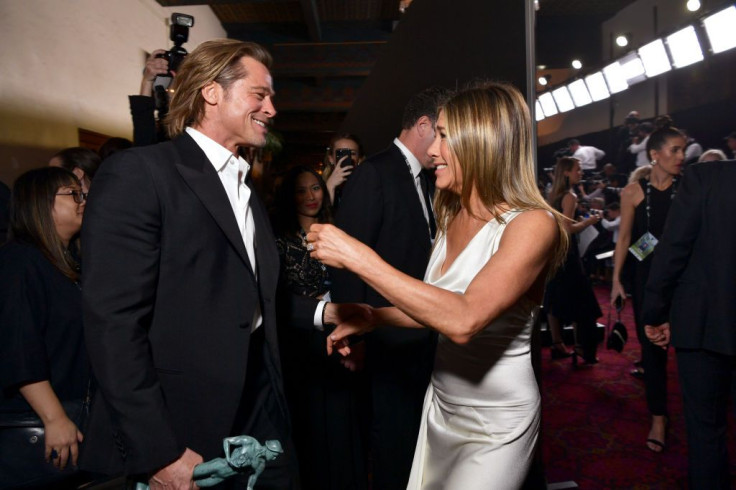 © Copyright IBTimes 2023. All rights reserved.