Jennifer Aniston Tattooed This Name After Getting Heartbroken, Not Brad Pitt's
Jennifer Aniston got the name of someone dear to her tattooed on her foot.
The "Murder Mystery" actress was previously married to Brad Pitt and Justin Theroux. However, for her, the love she gets from her dogs is unconditional compared to the men she had in her life.
Speaking with Dogs Monthly magazine, Aniston revealed that she considers her dogs her "real friends." The actress said that she has some great human friends but her dogs will always be very special.
The "Cake" star even considers them her family. Aniston said she has several dogs including Dolly a white German Shepherd, Sophie a pit bull and Clyde a terrier. They all live together in Los Angeles.
Pitt's ex-wife also recalled how one dog left her broken hearted that she tattooed his name on her foot.
"I had another dog, Norman, who was so lovely and was my best friend for many years," Aniston said. "When he went at the age of 15 I was heartbroken and I had his name tattooed on my right foot so he still comes for walks with me."
When Aniston and Theroux broke up, they agreed to do the best for their dogs. In July, Dolly passed away and Theroux shared snaps of how he and Aniston reunited for her on Instagram. One picture featured the two grasping each other's hand. The last snap showed the late pup wrapped in a soft blanket. In his caption, Aniston's ex-husband described Dolly the "most loyal family member" and their "protector."
Aniston has an incredible 2019. The actress has a lot to celebrate from breaking Instagram, having a hit show on Netflix to receiving the People of the Year award. The 50-year-old actress took to social media and shared a snap of her magazine cover.
Aniston was stunning in her black dress and messy hair. Her followers were very happy for her and even congratulated her. Many also praised her hair and dress because she looked great in it.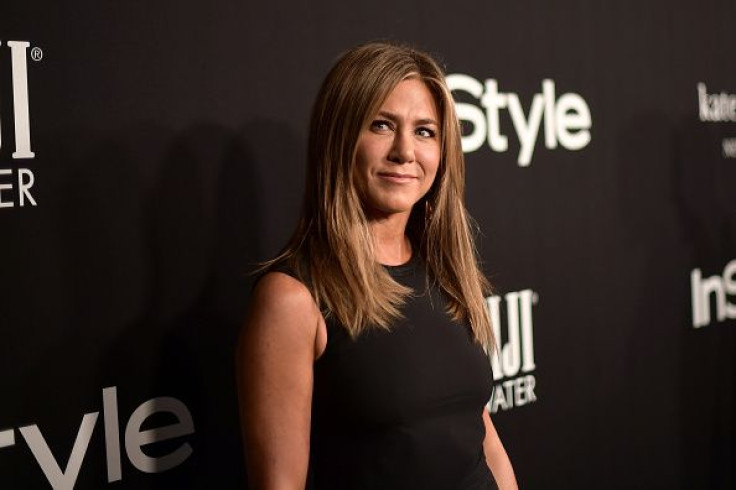 © Copyright IBTimes 2023. All rights reserved.