Jeremy Lin News: Lakers Guard Has Bounced Back From Shooting Slumps Before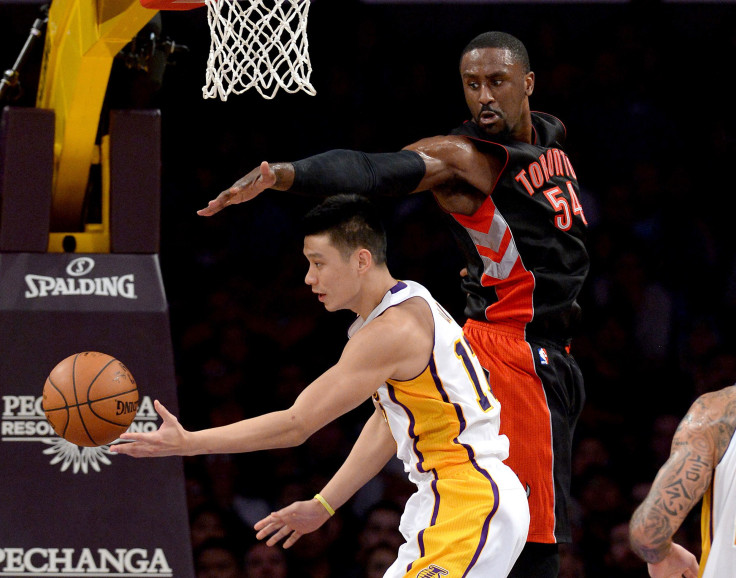 It's been a rough start for Jeremy Lin in his first season with the Los Angeles Lakers. After a shooting slump and questions surrounding his defense, head coach Byron Scott benched the point guard after 20 games and handed the starting role to journeyman Ronnie Price.
The results haven't fared better for Lin as a reserve. Aside from a strong effort in a road win over the San Antonio Spurs that included 14 points and eight assists, Lin has shown few signs of fully breaking out of a shooting slump after converting just two shots in his last two games. He is shooting just 29.3 percent from the field in December and had four games in which he failed to score more than three points.
Lin has shown glimpses this season of the high-scoring guard who thrived with the New York Knicks in 2012, but has provided an overall inconsistent effort. On Monday, Lin missed all six of his shot attempts and only had one assist, as the Lakers were trounced by the Indiana Pacers, 110-91. Lin's performance even baffled Scott.
"I don't know. He's just been up and down," Scott said of Lin after the game, according to the Los Angeles Times. "Sometimes he has nights like this."
The Lakers could use a hot streak from Lin. He is shooting just 42.5 percent, and the Lakers are No. 23 in field-goal percentage (43.5) after 25 games. Lin has never shot worse than 44 percent since his exciting season with the Knicks in 2011-2012.
Fortunately for the Lakers, Lin has broken out of plenty of slumps in the past. In Nov. 2012, and in his first full month with the Houston Rockets, Lin shot just 37.2 percent from the field while averaging 10.2 points per game. He bounced back in December with a 13.8 scoring average on 48.9 percent shooting. In the second half of the 2013-2014 season, Lin had a stretch of 10 games in which he shot just 31.8 percent and averaged 6.8 points per game, but he would go on to shoot 51.7 percent and average 14.8 points per game over the next six games.
A lack of confidence might be holding Lin back. Last season, he was benched by Rockets head coach Kevin McHale in favor of defensive specialist Patrick Beverely. But the Rockets were playoff-bound, while this current Lakers squad has the third-worst record (8-17) in the Western Conference. Meanwhile, Price is shooting an abysmal 29.1 percent, and has never averaged more than 4.3 points per game in his career.
Scott emphasized defending when he benched Lin and power forward Carlos Boozer. The move may be paying off, as the struggling Lakers have won three of their last four games after losing three straight. When Scott made the move to sit Lin on Dec. 9, he stated that Lin came to him to discuss how he can improve, according to the Los Angeles Times. Lin described being stripped of the starter duties as "one of the toughest situations I've been in."
Lin is still capable of receiving more playing time. Nick Young, Wesley Johnson, and even superstar Kobe Bryant are all guards who have struggled from the field for L.A. this season. More minutes for Lin, who is averaging a respectable 10.7 points per game, is certainly a possibility.
An uptick in scoring, and an improvement in defense should be enough for Lin to get more minutes on the floor. But getting there may be tough. There is a great disparity in Lin's field-goal percentage when he plays 30 minutes or more, compared to when he plays less than 30 minutes. Lin has played 14 games of 30 minutes or more, averaging 13.5 points per game on 46.4 percent shooting. In the nine games that Lin didn't play 30 minutes, he has averaged 8.7 points per game on 34.2 percent shooting.
An IB Times staff reporter contributed to this report.
© Copyright IBTimes 2023. All rights reserved.