Jersey Mike's Month Of Giving Starts With $8 Million Goal
March madness is a little different for Jersey Mike's Subs. The sandwich chain starts its Month of Giving on Monday, and in addition to donating to over 200 local charities, Jersey Mike's will offer customers special deals.
The franchise started its charity efforts in 2011, and since then they've raised over $32 million for local charities. The company announced its goal of $8 million for 2021, the highest goal yet.
Customers can make donations through the Jersey Mike's mobile app or at the register. On Wednesday, March 31, Jersey Mike's wraps up the event with the Day of Giving when owners and operators will donate their resources and 100% of their profits and resources that day.
Jersey Mike's will offer special deals to customers who follow them on Twitter or subscribe to their email club. Fans will have to wait to see each deal of the week, but the company confirmed that free delivery will be offered through the Jersey Mike's app on March 31.
With more than 2,500 locations open and under development nationwide, Jersey Mike's Subs will have plenty of charities benefitting from the Month of Giving.
Two Alabama locations, in Huntsville and Madison, have chosen to help less privileged children in their community get free swimming lessons from Heart of the Valley YMCA SPLASH Swim Initiative. The program aims to stop children from drowning.
Two franchise locations in Davenport, Iowa, and one in Moline, Illinois, will donate to Junior Achievement of the Heartland, which educates students on how to make good economic choices.
The Jersey Mike's in Hamilton, New Jersey, will donate to Ryan's Quest, a nonprofit founded by two Hamilton residents after their son was diagnosed with Duchenne muscular dystrophy (DMD). Their fundraising goes to research for better DMD treatments and, hopefully, a cure.
Hospitals are a common recipient this year. The Morgantown, West Virginia, location will give to WVU Medicine. The Seattle Children's Hospital will benefit from 41 Seattle-area locations raising money, and 47 locations in Phoenix, Arizona, will give to Phoenix Children's Hospital.
Check the Jersey Mike's website to see where your local sandwich shop is donating.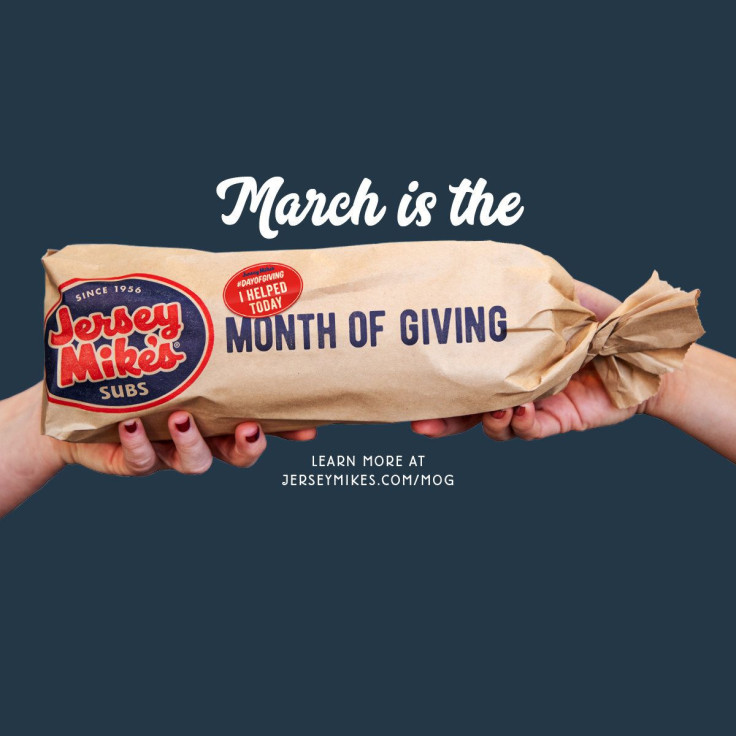 © Copyright IBTimes 2023. All rights reserved.