Jessa Duggar Plans To Welcome First Baby With Home Birth Despite Sister Jill Dillard's Complicated Delivery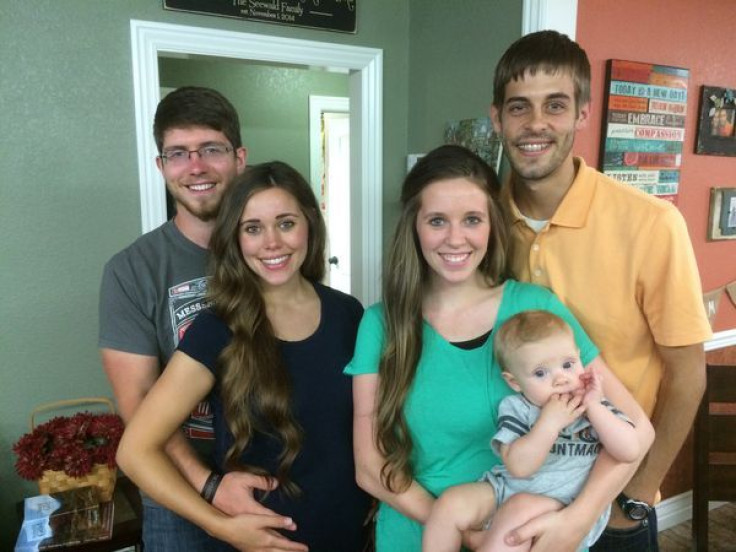 Like many Duggar women before her, Jill Dillard made plans to welcome her baby in the comfort of her own home this past spring, but as many "19 Kids and Counting" fans will recall, her delivery didn't go smoothly. After 70 hours in labor, the reality star had an emergency C-section, a far cry from the natural birth she wanted. However, it appears her complicated delivery isn't deterring her sister from giving home birthing a shot. Jessa Duggar Seewald announced Sunday that she wants to deliver her first baby at home.
Jessa, 22, explained her decision on the Duggar Family Blog. "We have lots of relatives and friends who have had wonderful experiences with giving birth at home, and we are excited and hopeful that our experience will be the same," she said.
While the mom-to-be is hopeful about a home birth, she did reveal she has a backup plan. "We also realize that sometimes (as in Jill's case) a transfer to the hospital may be necessary," she said. "Our birth plan definitely includes a Plan B."
The home where Jessa, who is due to welcome her baby with husband Ben Seewald Nov. 1, is planning to deliver has seen the arrival of many Duggar babies. Jessa's eldest brother, Josh Duggar, and his wife, Anna Duggar, welcomed two of their four children in the Arkansas residence. Viewers of the family's recently canceled TLC series, "19 Kids and Counting," will remember seeing Anna Duggar give birth to Mackynzie, now 5, and Michael, now 4, inside the home.
Jill, now 24, planned to give birth to her son, Israel David, now 5 months, at her home in Rogers, Arkansas. But those plans were squashed at the last minute when Jill, then a student midwife, felt it was necessary to receive medical care after noticing signs of fetal distress. Israel David was born April 6. TLC viewers were introduced to him in the episode "Jill's Special Delivery," which premiered May 5.
Watch a scene from "Jill's Special Delivery" below:
This baby will be Jessa and Ben's first. The couple announced they were expecting in April. Their baby's due date also coincides with their one-year wedding anniversary.
Despite being open about the pregnancy, Jessa and Ben have not revealed whether they're expecting a boy or a girl. While they may be keeping Duggar fans in the dark, the parents to be are fully aware of their baby's gender. "We recently had an ultrasound but aren't revealing our firstborn's gender yet," Ben Seewald wrote in a June 17 blog post. "Can't wait to welcome this blessing from God into the world!"
The Seewalds will showcase their baby journey on TV in an upcoming TLC special. The episode is said to be airing in late 2015.
© Copyright IBTimes 2022. All rights reserved.
FOLLOW MORE IBT NEWS ON THE BELOW CHANNELS