Jesse Joe Hernandez Yells 'Go Cowboys' At Execution: 10 Weirdest Last Words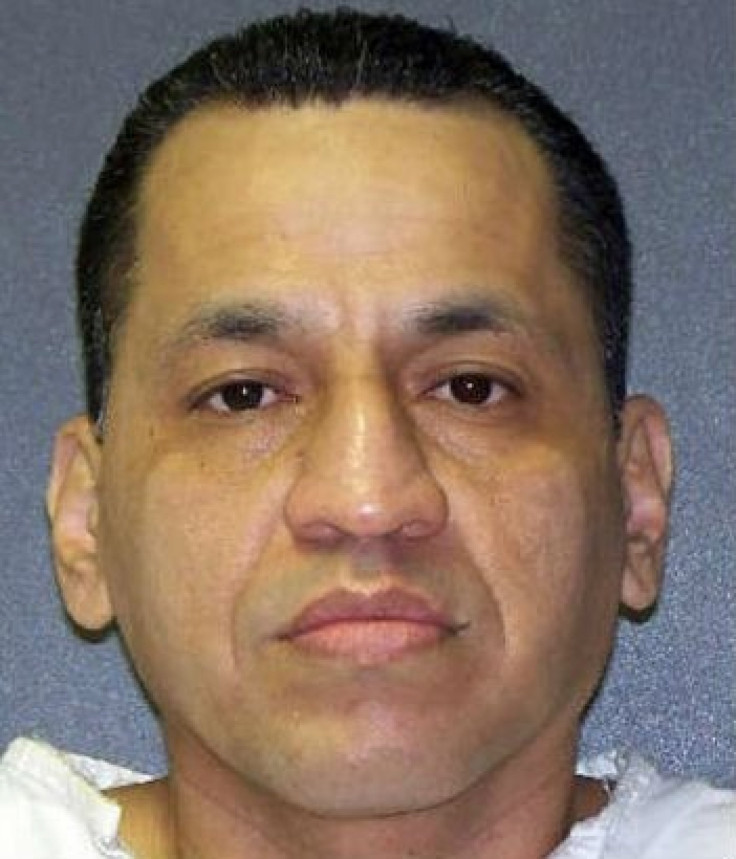 Convicted sex offender and child killer Jesse Joe Hernandez, 47, was executed Wednesday in Texas for the beating death of 10-month-old Karlos Borja.
Hernandez, the fourth prisoner to be executed this year in the state of Texas, was given a lethal injection only hours after a last-ditch attempt at an appeal was made by his lawyers before the U.S. Supreme Court.
But Hernandez is making news less for his grisly death than for what he reportedly said before losing conscious: a shouted tribute to his favorite football team.
God bless everybody. Continue to walk with God, Hernandez said, before shouting, Go Cowboys!
But while Hernandez, who later thanked those present for coming to his execution and told them he could taste the effect of the lethal injection, is now making headlines for his unusual last words, the convicted killer is far from the first prisoner on death row to leave a strange, unnerving or downright weird last testament for witnesses to remember them by.
Many condemned prisoners meet their deaths with dignity, regret, resignation or even relief. They continue to delcare their innocence, give reasons for their actions, or confess their guilt for the first time.
Others, however, use the opportunity as a final moment to have their say, cause a media furor or simply assert their control before it is taken away from them.
Below, read ten more of the weirdest last words uttered by condemned prisoners, from tongue-in-cheek sendoffs like that of James French to belligerent admonitions like that of Thomas J. Grasso.
1. George Appel, 1928, death by electrocution
Last Words: Well, gentlemen, you are about to see a baked Appel.
Appel was a murderer of puns and one New York policeman.
2. Jimmy Glass, 1987, death by electrocution
Last Words: I'd rather be fishing.
Glass was executed after escaping from jail and robbing and murdering an elderly couple.
3. George Engel, 1886, death by hanging
Last Words: Hurrah for anarchy! This is the happiest moment of my life.
Engel was hanged for the Chicago Haymarket bombing, which killed seven police officers and at least four civilians.
4. James French, 1966, death by electrocution
Last Words: How about this for a headline for tomorrow's paper? French Fries.
Already in prison for life, French was supposed to have been afraid to commit suicide even though he wanted to die. He killed his cellmate in order to receive the death penalty.
5. Carl Panzram, 1930, death by hanging
Last Words: "Hurry it up you Hoosier bastard! I could hang a dozen men while you're screwing around."
Panzram was an arsonist, burglar and serial killer responsible for the deaths of at least 22 people.
6. Edward Ellis, 1992, death by lethal injection
Last Words: I just want everyone to know that the prosecutor and Bill Scott are sorry sons of bitches.
Ellis was linked to a series of murders known as the bathtub slayings, where three women were found to have been robbed and strangled in their own bathtubs.
7. Thomas J. Grasso, 1995, death by lethal injection
Last Words: "I did not get my Spaghetti-O's. I got spaghetti. I want the press to know this."
Grasso was convicted of murder after strangling an 87 year-old woman to death on Christmas Eve with her own Christmas lights before stealing her TV and some $12 in cash.
8. Christopher Scott Emmett, 2008, death by lethal injection
Last Words: Tell the governor he just lost my vote. Y'all hurry this along. I'm dying to get out of here.
Emmett was convicted in the robbery and murder of a co-worker.
9. Aileen Wuornos, 1992, death by lethal injection
"I'd just like to say I'm sailing with the Rock and I'll be back like Independence Day with Jesus, June 6, like the movie, big mothership and all. I'll be back."
Wuornos, the inspiration behind the film Monster, killed at least six men while working as a prostitute in Florida. She claimed that all her victims either either raped or intended to rape her.
10. Sean Flanagan, 1989, death by lethal injection
Last Words: I love you.
Flanagan, a male prostitute who killed at least two gay men and threatened to continue killing if he was released, mouthed his last words to the district attorney who got him convicted before he died.
FOR FREE to continue reading
✔️ Unlock the full content of International Business Times UK for free
offer available for a limited time only
✔️ Easily manage your Newsletters subscriptions and save your favourite articles
✔️ No payment method required
Already have an account? Log in
© Copyright IBTimes 2023. All rights reserved.