JetBlue Las Vegas Flight Diverted After Captain 'Went Nuts' Mid-Air [VIDEOS]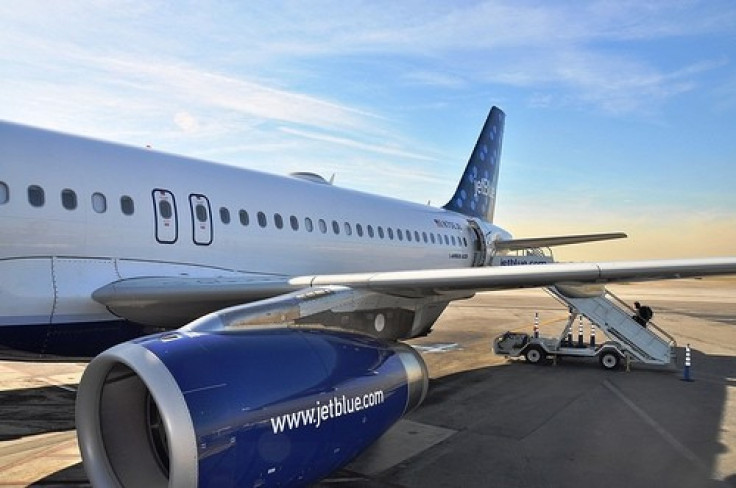 A JetBlue Las Vegas-bound flight was diverted to Amarillo, Texas, Tuesday after the pilot reportedly had a mental breakdown, telling passengers to say your prayers.
According to a statement from JetBlue, a medical situation developed involving the flight captain, prompting the co-pilot to make an unscheduled landing in Amarillo. JetBlue says another pilot traveling off duty then entered the flight deck prior to landing at Amarillo and took over the duties of the ill crewmember.
The ill crewmember was then taken to Northwest Texas Hospital for examination.
Several passengers on the flight, which originated in New York, took to Twitter and a few posted videos of the events (below).
Our pilot went nuts and we had to land in Amarillo, tweeted passenger Tiffany Lee. I saw my life flash before my eyes today.
Flight 191 had 135 passengers and five crew members when it departed New York's John F. Kennedy Airport at 10:45 a.m. ET Tuesday.
The Amarillo Globe News reports that the pilot raced inside the airliner screaming obscenities and shouting about threats from al Qaeda and bombs aboard the plane before half a dozen passengers pinned him to the floor.
One passenger told the Amarillo ABC News station that the pilot was foaming at the mouth and banging on the cockpit door. Another witness told Fox 5 News the pilot was in the cabin attempting to storm the cockpit.
I saw a guy wearing a pilot's uniform run down the aisle screaming and yelling and banging on the cockpit door to let him in, the witness said, adding the man was screaming, Say your prayers! Say your prayers!
A video posted on YouTube (below) shows passengers huddled near the front of the plane attempting to document the scene on their cameras as a crew member says, Please everybody, we don't need pictures of this. Just stay seated.
The unnamed captain was described as about 6 feet 3 inches tall and stocky with short, cropped hair.
The FBI and emergency crews were called into the airport and the passengers were eventually put on another plane to continue their journey to Las Vegas.
© Copyright IBTimes 2023. All rights reserved.