Jill Biden Is Not Just The Future First Lady, She's Also A Style Icon
Jill Biden is not only a wife, a mother, a teacher, a woman with a doctorate degree and the future First Lady of the U.S., but she's also a style icon that might bring a certain spunk to the White House.
Throughout her husband's 2020 campaign, Dr. Jill has impressed with her style every time, with designer dresses and matching face masks to statement items, she seems as though she's got it figured out.
Jill Biden doesn't just wear the black dress and pearls, or matching color pantsuits that have traditionally been attached to the First Ladies of the United States. Like Michelle Obama and Melania Trump, she does her own thing. She isn't afraid to break out the bold colors and make a statement, while still toeing the line with appropriate fashion as well.
She really stunned Americans during President-elect Joe Biden's celebration on Saturday when he was announced the projected winner of the 2020 presidential election. Not only was her outfit the talk of news outlets, but her entire demeanor and personality were, too.
The 69-year-old stepped out in an Oscar de la Renta asymmetrical dress consisting of a navy and floral design, paired with a matching navy-colored mask--and her demeanor alongside her husband was notably bright and happy.
An InStyle reporter explained that it was nice to see a type of energy opposite of Melania Trump, who has generally had a different demeanor when around her own husband. Biden was smiling and seemed confident and comfortable onstage.
Another example of style that makes a statement occurred in September when Biden was photographed wearing a bold purple A-line dress with a black blazer and black boots to match. The boots were the star of the show because they had the word "VOTE" spread across the back of them.
Even since 1987 when Joe Biden first ran for president, she wasn't afraid to wear what she wanted to wear and not what everyone else thought she should wear.
Back in 2009 on former President Barack Obama's inauguration day, she wore a bright red coat with a black dress underneath and knee-high, high heel boots. Later that night at the inauguration ball, she wore a red strapless floor-length gown with her hair hanging above her shoulders.
No matter the occasion, Jill Biden is sure to step out in something stunning and something that she feels great in. Americans will just have to wait and see what kind of fashion statements and outfits she has up her sleeves for the upcoming four years.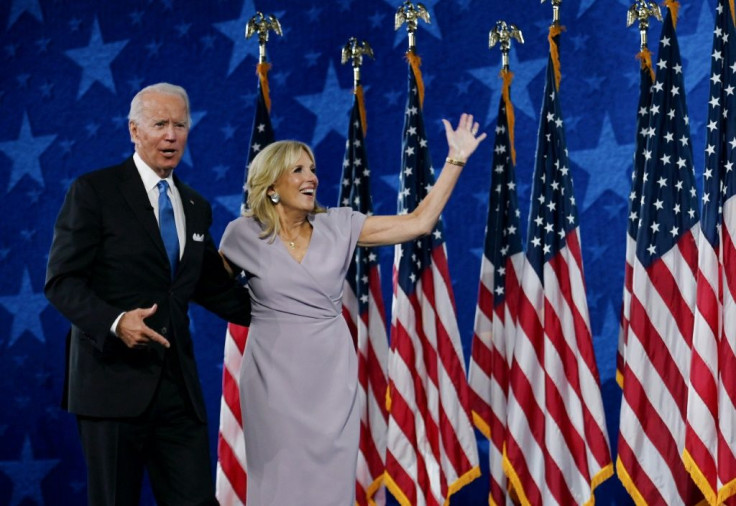 © Copyright IBTimes 2023. All rights reserved.