Jill Dillard's Friend Murdered, Pregnant Duggar Announces Return To US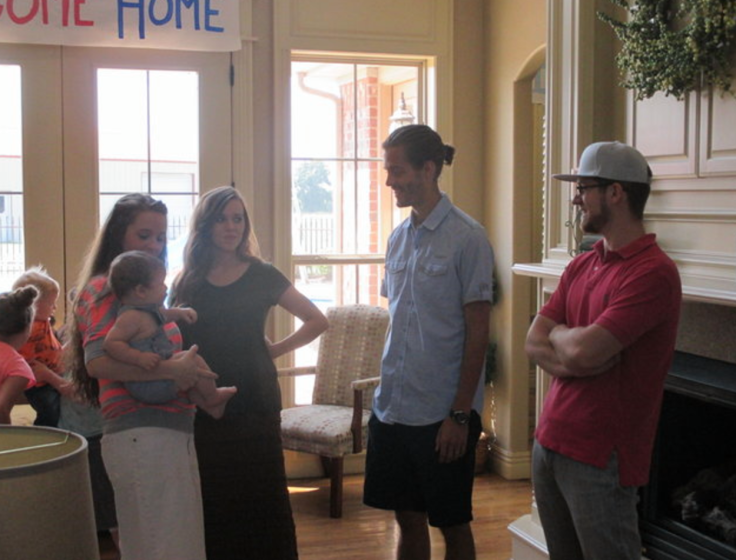 Jill and Derick Dillard have continually spoken about the dangers of living and working in Central America as missionaries on TLC's "Counting On" and she recently touched on the issue again in a blog post.
Jill revealed on her blog that one of their friends was murdered on Sunday. The reality star wrote that she received a phone call from a friend the following day informing them of the fellow Christians' death. "His family has found his body down by the river earlier that morning," she wrote.
"We talked about these friends of ours who we'd had the opportunity to invite into the hospitality house for a meal recently as they have been going through a really tough time after the death of his grandmother and murder of his 20 year old cousin and then the stroke his daughter had when she received the news. Now they have been spending most of the time in their home for fear of being kidnapped or killed as violence has escalated in their area," she continued.
READ: Jana Duggar's friends speak out about courtship rumors
"Even though we had spoke with our friend and his family about the realities of the dangers here, and especially in their area right now, we were shocked when we learned of his kidnap and murder. We've had them into our home three times in the past couple weeks!"
In an April mission update, Jill wrote that the very friend who was murdered and his wife "continue to live in fear of being kidnapped or killed and now seldom leave their home."
Derick, Jill said, was able to go to the funeral service for their late friend. She and her their son Israel, 2, did not attend.
"Typically funerals are held in a family member's home and last several hours into the night. Our friend's funeral was held in their area and Derick and some men from church were able to share some words of encouragement with the family and guests. We have cried and continue to grieve the loss of our dear friend," Jill wrote.
Jill concluded her message by revealing she would soon be returning to the U.S. ahead of the birth of her and Derick's second child. Jill and Derick are due to welcome baby boy No. 2 in July.
Since Jill's blog post, her family has also addressed the tragedy. On Wednesday, Michelle Duggar asked for prayers for her daughter's friends on Facebook. "Please pray for this family near Derick, Jill, and Israel," she wrote. "They have suffered so much."
While Derick did not directly respond to their friend's death on the blog, he did post a special message for his wife on the site Wednesday. In celebration of Jill's 26th birthday, he wrote a message stating how thankful he is to have his "helpmate in life."
"You are a radiant example of the love of Christ. Walking through life with you has been one of the greatest joys I have ever experienced," he gushed. "I have seen the love and care you have shown your family, Israel, and they people we are working with every day. You make me a better person every day. I love you with all that I am and it is such an honor to be your husband!"
Jill, Derrick and their son Israel have been doing missionary work in Central America on and off since 2015. The family of three first left in July of that year and have returned several times to the U.S. since for various family gatherings and vacations.
The Duggar family will continue their TV journey in June with the premiere of the back half of "Counting On" Season 2 on TLC. The trailer for the new episodes shows Jill at home in Arkansas questioning her sister Jinger Vuolo on her suspected pregnancy and Jill's comments about returning to the mission field.
© Copyright IBTimes 2022. All rights reserved.
FOLLOW MORE IBT NEWS ON THE BELOW CHANNELS