Jill Duggar's Husband Derick Accused Of Animal Abuse; '19 Kids And Counting' Star Hits Cat While Sledding In Instagram Video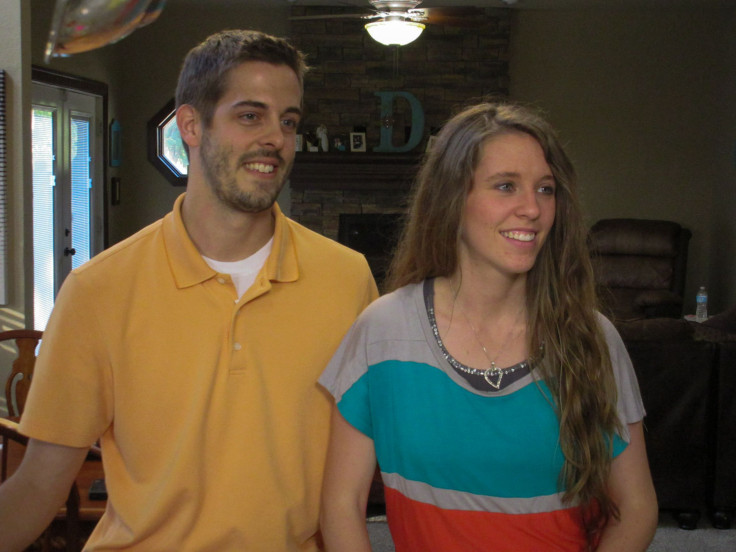 The Duggar family's latest adventure is causing a firestorm on social media. On Sunday, Jill Duggar's husband, Derick Dillard, shared a video of himself sledding at his in-law's estate. In the clip, the "19 Kids and Counting" reality star can be seen appearing to purposefully attempt to hit a cat while heading down a hill, an action which has resulted in some fans slamming him for suspected animal abuse.
"Sledding with friends and family at the Duggar home #smallestsled," reads Derick's caption for the short video. In the clip, Derick appears to angle himself on the top of a hill, directly in line with an orange cat. "Push him, push him, push him!" an unidentified female says ahead of Derick's trip down the hill. Derick, who initially yells at the cat to "move," eventually makes contact with the feline who scatters away as the Duggars laugh in the background.
The comments section for the video, which has since received over 24,000 "likes" on Instagram, has recently become a breeding ground for some viewers who are accusing the 25-year-old dad-to-be of animal abuse.
"Ugh, what an a--hole. This whole family is a hot mess and horrible people," shared on commenter. "Gross and inappropriate. It's cruel to scare animals and potentially cause them harm," wrote one upset fan. "This is disgusting. You're disgusting," shared another viewer.
While the Duggars are known for touting their religious faith — they're practicing Independent Baptists — some viewers are claiming that Derrick's actions in the newly-released video are more cruel than godly.
"How is this even funny? I would think you would have some respect for all God's creatures. What a shame," posted one commenter. "A cats life is just as important as a child's. A cat is one of God's creatures, just like a child. I don't think God would like ANYONE mistreating ANY of his creations," wrote another fan. "I guess 'sanity of life' doesn't extend to cats?" questioned one viewer.
"19 Kids and Counting" fans have even taken to Derick's Twitter page to slam his actions. "They are starting to show their true colors. On TV and social media. #notsochristianafterall," posted one Twitter user Sunday. "Wow, really! Running over a cat on a sled. Real freaking nice #dillweed," wrote another fan.
Derick doesn't appear fazed by the backlash. Just hours after posting the controversial clip, he shared a photo of himself holding a family friend's newborn on Instagram. "So sweet finally getting to meet baby Jesiah yesterday!" he captioned the photo, calling his meeting with the infant "baby practice."
Derick joined the Duggar family in June 2014 when he wed Michelle and Jim Bob Duggar's second eldest daughter Jill, now 23. The couple is due to welcome their first child — a boy — later this month. Their journey to parenthood is currently a featured storyline on Season 9 of "19 Kids and Counting." New episodes air Tuesdays at 9 p.m. EST on TLC.
© Copyright IBTimes 2023. All rights reserved.