Jimmer Fredette News: BYU Star In The Doghouse With The Chicago Bulls?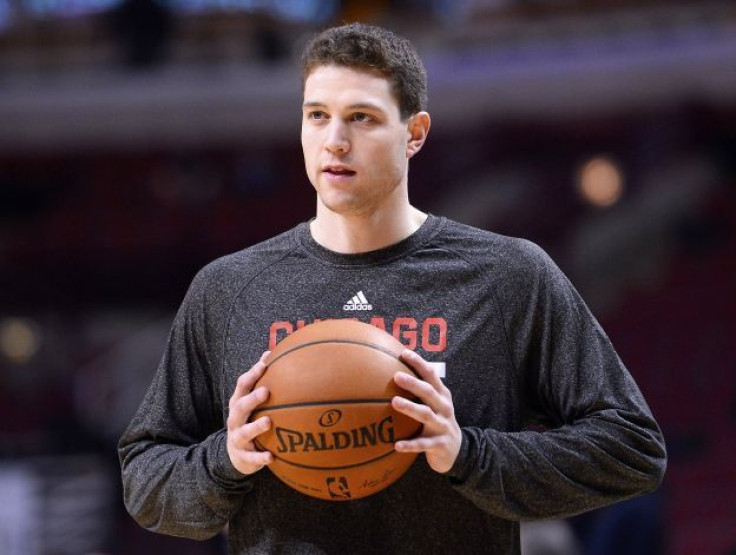 Three years ago, Jimmer Fredette was leading the BYU Cougars to their best performance in the NCAA Tournament in three decades.
Attempting more shots than at any point in his four-year college career, the eventual Wooden Award winner lit up opposing defenses for 28.9 points and 4.3 assists per game, nailing 39.6 percent from deep range that season. The Cougars made the Sweet 16 and forced Florida into overtime in the 83-74 loss in the regional final. Fredette poured in 32 points in his final collegiate game, and would leave an indelible mark on Brigham Young basketball.
Upon joining the Sacramento Kings, Fredette learned a harsh reality of pro basketball: most teams have plenty of backcourt depth. He struggled to get playing time under then-head coach Keith Smart, and the same would be true under Mike Malone.
Since the Chicago Bulls signed Fredette to a pro-rated deal earlier this month that would assure him a playoff roster spot, a move that appeared to be his saving grace away from the dysfunctional Kings, he has played a total of 18 minutes in four out of a possible 13 games.
The reasons for Fredette riding the pine have been discussed before. He has failed to take minutes away from productive guards D.J. Augustin, Jimmy Butler and rookie Tony Snell, though Snell has lately been relegated to the bench almost as much as Fredette.
Fredette's size could also be an issue in his lack of playing time. At 6'2, he is skilled and big enough to get his own shot off, but defending bigger guards may be viewed as a problem in head coach Tom Thibodeau's defensive schemes.
But with Butler and likely All-NBA first-team center Joakim Noah, as well as versatile and long forward Taj Gibson backing him up, Fredette's defensive shortcomings could easily be made up. Especially if he's given the chance to show off his true calling: putting the ball in the hole.
The Bulls have soared to third in the Eastern Conferences standings after going 28-13 since the start of the new year. Much of the credit belongs to Noah and Chicago's second-ranked defense. And that's also in spite of sending out the worst offense in the league, scoring 93.1 points per game.
In the absence of Luol Deng, who was Chicago's leading scorer before he was traded to Cleveland, Thibodeau has placed more of the offensive workload on veteran Mike Dunleavy. But as the Chicago Daily Herald pointed out, the influx of minutes hasn't helped the Bulls scoring or Dunleavy.
While Dunleavy has seen a boost in playing time, he has shot just 39.5 percent from the field since Feb. 1. The Bulls are relying on Butler, Noah, Augustin and Gibson to score by committee when they were originally supposed to complement point guard Derrick Rose. The former MVP has been sidelined since November with a right knee injury, and won't be returning this season.
It appears that Thibodeau not only needs more scoring, but someone to provide relief minutes to his already thin roster. Fredette can perhaps step in and immediately be a much-needed perimeter threat. He is also a more than serviceable playmaker.
For the season, Fredette is averaging 5.6 points and 1.4 assists per game. Fredette has knocked down 49.4 percent of his three-point shots this season, a rate that would be best in the league if he had more attempts. The Bulls are 25th in three-point shooting this season (34.7 percent).
© Copyright IBTimes 2023. All rights reserved.