Jinger Duggar's Latest Photo Has 'Counting On' Fans Buzzing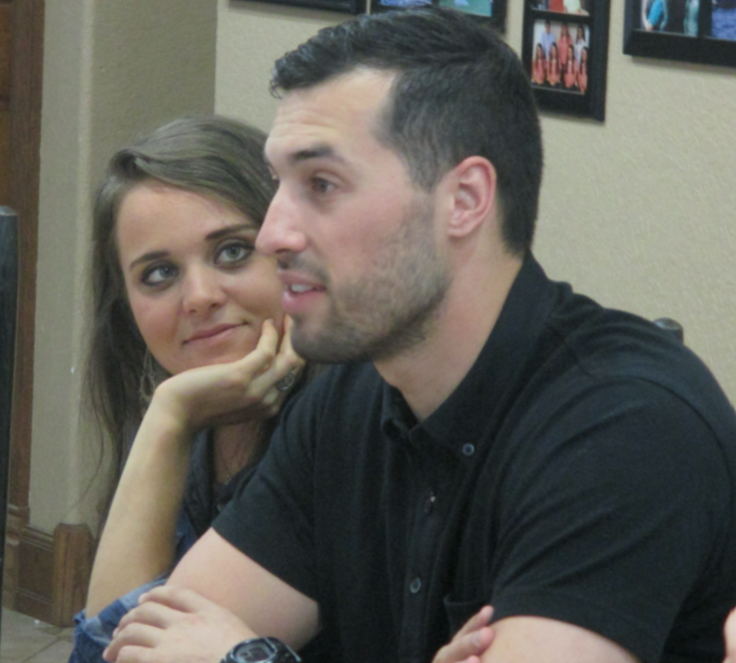 Jinger Vuolo isn't exactly like her siblings. The "Counting On" star continued her express her individuality in a photo posted to her husband Jeremy Vuolo's Facebook page Thursday.
"A good time w/ my lady at the Border Town Flea. That heat'll getcha!" Jeremy captioned a shot of him and Jinger soaking up the sun. While recent picture of the TLC stars have garnered attention over speculation Jinger may be sporting a baby bump, the latest picture has fans talking due about Jinger's wardrobe.
READ: Which Duggar Sister Is Not Married? Why Jana Still Lives At Home
In the photo, the conservative Duggar can be seen wearing pants, an unusual choice for a female in the Duggar family. "Love the pants!" one fan complimented. "Jinger is wearing pants again I see! You look great!" wrote another supporter. "Such a cute couple having fun. And I'm glad to see Jinger doing her own thing," reads a third comment.
Some commenters even suggested Jinger take things a step further and wear shorts. "Jinger welcome to Laredo. It's hot here, wear short girls we won't judge," one fan wrote. "Your pants look cute Jinger. But wear shorts, honey. You look too hot," said another.
Jinger last shocked fans by her decision to wear pants in June during a visit with her in-laws. "Mom and Dad Vuolo are in town," Jinger captioned the Instagram picture. In April, Jeremy shared a photo of Jinger wearing pants during a meeting with their friends, Tom and Sheila Pennington. In March, Jinger expanded her fashion horizons by sporting shorts during an outing with Jeremy.
Wearing pants isn't exactly against any unofficial Duggar family rules, though the brood has continually spoken about women dressing modestly. In a 2013 post for TLC.com, matriarch Michelle Duggar explained that her daughters were raised to dress "modestly" and "in clothes that are definitely more feminine apparel."
"I've told my daughters this has been a joyful journey for me to learn what my Lord has called me to. This is the direction that God has led me as your mother, and you're in the family. My girls and their future spouses are going to have that journey in their lives, too. Because my girls are working with the Lord, they have a relationship with God and they will determine what that means for them. And it may be a different journey than mine and that's okay."
Bustle discovered the adult Duggar daughters expanded on that decision in their 2014 book "Growing Up Duggar," writing, "We realize that our body is a special gift from God and that He intends for it to be shared only with our future husband." The women revealed they also shy away from low-cut tops as to not "play the peekaboo game with our neckline."
Of course, Jinger's latest photos have not only caused a stir because of her outfit choices. For months, "Counting On" fans have speculated she and Jeremy, who married last November, could be expecting their first child.
READ: All The Signs Jinger Duggar Is Pregnant
Pregnancy rumors started to fly in May after Jinger posted a video of her and Jeremy offering Joy and Austin Forsyth marital advice following their wedding and fans thought they spotted a baby bump in the clip. The following month, new speculation came about after fans accused Jinger of hiding a possible bump in a Facebook candid.
© Copyright IBTimes 2023. All rights reserved.