Joe Biden TV Speech: Start Time, Live Stream Info, Topics For President's Address To Congress
President Joe Biden on Wednesday will address a joint session of Congress, outlining his policy goals in his first year and amid the COVID-19 pandemic and after passing a massive stimulus package. The speech is considered an "annual message" and not formally a "State of the Union" speech.
Biden's speech, which comes two days before his 100th day in office, will be shown live on all major television networks, as well as streamed online through platforms like the White House's YouTube page and C-SPAN.
CNN, MSNBC and Fox News will all carry Biden's speech and the Republican response.
The speech will begin at 9 p.m. ET, with most streams beginning a little earlier to capture the arrival of lawmakers and the president. The president typically invites some surprise guests not revealed until shortly before the speech. The event typically lasts longer than an hour.
The chamber won't be quite as full as in a standard year, with Congress still observing social distancing and opting not to give members the standard plus-one invitations.
Biden is expected to touch on the American Families Plan, his $2 trillion infrastructure plan, the COVID-19 pandemic and vaccination efforts. He will also address the troop pullout from Afghanistan and warn of the threats from China, Russia, North Korea and cyberattacks.
The speech may also feel a bit like a victory lap, as Biden has achieved double his original goal of 100 million vaccinations in 100 days and the economy recovering well from the pandemic's initial ravages.
House Speaker Nancy Pelosi's April 13 invitation to Biden hinted at that tone.
"Nearly 100 days ago, when you took the oath of office, you pledged in a spirit of great hope that 'Help Is On The Way.' Now, because of your historic and transformative leadership, help is here!" she wrote. "In that spirit, I am writing to invite you to address a joint session of Congress on Wednesday, April 28, to share your vision for addressing the challenges and opportunities of this historic moment."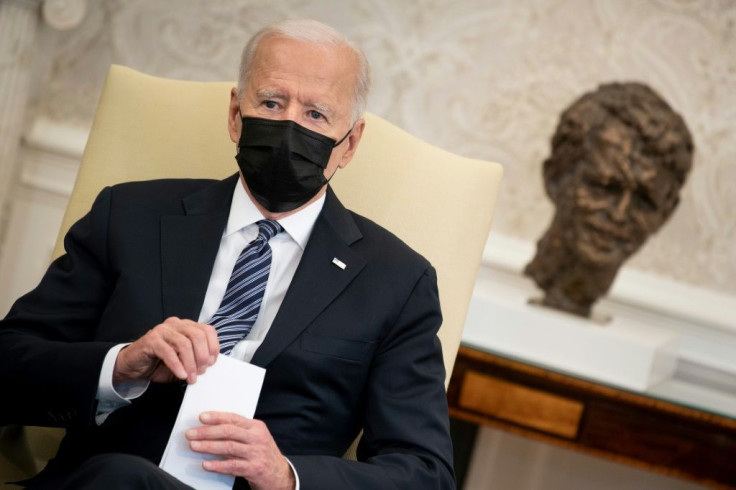 © Copyright IBTimes 2023. All rights reserved.