John McCain vs Kim Jong Un: Senator Defends 'Fat Kid' Insult Against North Korean Leader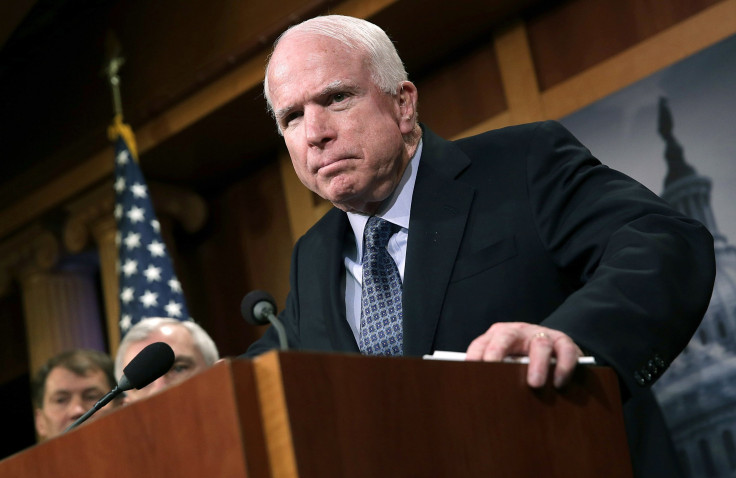 Sen. John McCain, R-Ariz., secured his spot next to Hillary Clinton in the Twitter clap back hall of fame Wednesday when he — again — mocked the physique of North Korean leader Kim Jong Un.
McCain first landed himself in proverbial hot water with the dictator last week when he called Kim a "crazy fat kid" in conversation with MSNBC host Greta Van Susteren. McCain, while talking about how to stop Pyongyang after weeks of it ramping up aggression and reports that it's preparing for its sixth nuclear test, said China must get involved, Business Insider reported. China is one of North Korea's biggest allies.
"China is the one, the only one, that can control Kim Jong Un, this crazy fat kid that's running North Korea," said McCain, the 2008 Republican presidential nominee and current chairman of the Senate Armed Services Committee. "They're the ones. They could stop North Korea's economy in a week."
Read: North Korea Will Launch Rockets 'At Any Time' Kim Jong Un Pleases, Officials Say
The remarks went viral, and Pyongyang became enraged, issuing a statement saying the senator's insult was "blasphemy," according to UPI. McCain, however, doubled down, on Wednesday tweeting "What, did they want me to call him a crazy skinny kid?"
McCain, at 80, is nearly 50 years older than Kim, who is thought to be 33. But the senator's interview wasn't the first time Kim's weight has made headlines. A spy service revealed last July that Kim gained about 90 pounds after taking the reins after his father's 2011 death.
"He keeps a close tab on any potential threats to his power, including the military, and he is obsessed with ensuring his personal safety," South Korean politician Lee Cheol-woo told the Guardian at the time. "Because of his habitual binge eating and drinking, he is likely to develop adult [lifestyle] diseases."
© Copyright IBTimes 2023. All rights reserved.