Josh Duggar's List Of Mistresses Will Continue To Grow, Predicts Amy Duggar's Fiancé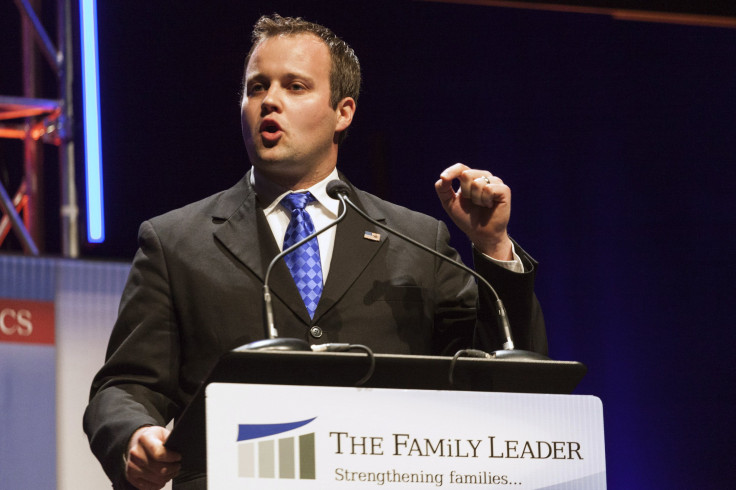 Josh Duggar is losing the support of his family members left and right. On Tuesday, his sister Jessa Seewald shared a blog post with her followers, written by her father-in-law, which labeled her 27-year-old brother as a "pretender" following his Ashley Madison cheating scandal. Now, Dillon King, fiancé of his cousin Amy Duggar, is stepping forward, slamming the former "19 Kids and Counting" star.
In an interview with In Touch Weekly, Dillon King speaks out about Josh Duggar's decision to cheat on his wife of almost seven years, Anna Duggar. As most "19 Kids" viewers are aware, the father of four admitted to being unfaithful to his wife in a Aug. 20 statement after the popular cheating site was hacked. His alleged mistress, porn star Danica Dillon, soon stepped forward, claiming to have had violent sex with the seemingly devout TLC reality star. (In Touch Weekly also claims to have spoken with an unnamed second sex partner of Josh's.) And while the findings are sure to shock any Duggar family fans, Dillon King says he doesn't think Danica Dillon will be the last woman to speak out about Josh Duggar's extramarital actions.
"Oh, I'm sure it's not just the one person," Dillon King told the magazine in their Sept. 14 print issue.
Ultimately, Dillon King, who is due to marry Amy Duggar on Sunday, says the number of sexual partners Josh Duggar had doesn't matter. "It's really sad. And I don't think it matters who [he's cheated] with. Cheating is cheating. The fact of the matter is he cheated."
Despite Josh Duggar's cheating scandal, Dillon King claims Anna Duggar is being told to stay in her marriage. "I know Anna's parents are talking with her about staying with Josh," he told the magazine. And while her parents, the Kellers, seem to want their daughter to stay with the former Family Research Counsel director, Dillon King says he has a different view.
"I don't know what she's thinking," he said. "[What Josh did] was premeditated. It's a double life kind of thing. If it were me, I would leave him."
Dillon King is not the first member of the Duggar-Keller family to tell Anna Duggar to leave her husband. Anna Duggar's brother, Daniel Keller, slammed his brother-in-law's actions in a Facebook post last month and revealed to fans he offered his sister a place to stay at his house. "I told her I would go get her and her children to stay with me. She said she's staying where she's at," he wrote. "But I won't stop trying to get that pig out of our family."
Josh and Anna Duggar, 27, have been married for six years. Their wedding anniversary is on Sept. 26. They share four children together: Mackynzie, 5; Michael, 4; Marcus, 2; and Meredith, 1 month. The couple starred on TLC's "19 Kids and Counting" until earlier this year, when the network pulled the show in reaction to Josh Duggar's molestation scandal.
© Copyright IBTimes 2022. All rights reserved.
FOLLOW MORE IBT NEWS ON THE BELOW CHANNELS