Joy Anna Duggar's Future Sister-In-Law Continues To Copy Her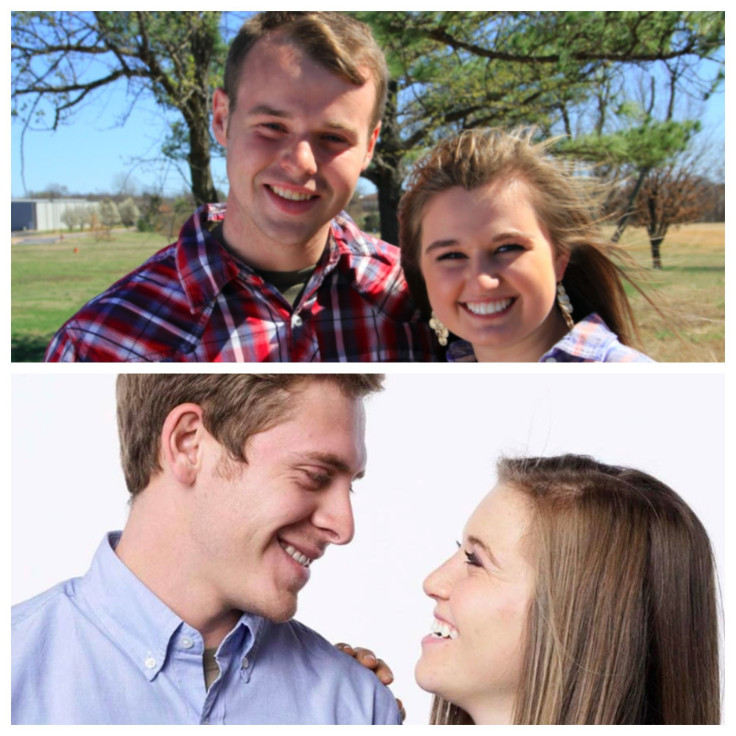 Joy Anna Duggar seems to be a big inspiration for her brother Joseph Duggar and future sister-in-law Kendra Caldwell. On Monday, it was revealed that the soon-to-be newlyweds had a joint bachelor and bachelorette party very similar to Joy and her beau Austin Forsyth's celebration this spring.
Ahead of their fall wedding, Kendra and Joe revealed to People Magazine that they decided to have a boat party in Beaver Lake in Arkansas to celebrate their upcoming nuptials. And while brides and grooms typically party separately, Kendra and Joe made it a joint affair.
The magazine reports the couple took 25 of their friends and family member on a fleet of decorated vehicles to the lake before setting up on the water Friday. Their party guests were treated to a picnic lunch and a day filled of water skiing and tubing.
READ: 4 Signs Joy Duggar Could Be Pregnant
"We decided to do a joint bachelor-bachelorette party because we love spending time together. We figured this would be a really good activity for both of our families to connect," the pair said.
"We ended up doing the water skiing and tubing for our joint bachelor-bachelorette party because Kendra loves the water, and I just enjoy doing whatever she's doing," Joseph added.
A photo from the outing showed Joseph posing with his arm wrapped around his future wife, who is smiling brightly in the shot.
<iframe width="513" height="315" src="http://www.tlc.com/embed?page=267069" frameborder="0"></iframe>
Joseph and Kendra's bachelorette/bachelor party comes less than three months after Joy and Austin invited friends and family for a joint affair in the wilderness. In May, TLC, which airs the family's hit reality series "Counting On," shared a clip of joy and Austin enjoying a camping getaway ahead of their wedding.
"We were trying to think of ideas for what we should do," Joy said in the TLC clip of their party plans. "I've never really been a big camper. So this is my first time to actually camp outdoors but it's been a blast."
"I think I like outdoor activities because I grew up doing that," Austin added. "My dad took me camping at a very age, our whole family, and its just something we've always enjoyed as a family and I hope to transfer that over to our family."
Joseph and Kendra started officially courting on March 8, one week after Austin proposed to Joy. Joseph and Kendra are due to marry Oct. 7 in Rogers, Arkansas. Their engagement was announced days after Joseph popped the question during Joy and Austin's wedding reception on May 26.
While some fans questioned the timing of the proposal, Joseph said his little sister was in on the plan.
READ: Joy Duggar Gets Slammed For Asking Fans To Buy Wedding Gifts
During the "Counting On" wedding episode, cameras showed Joy pretend to prepare to throw her wedding bouquet to her single female guests only to hand it off to Kendra. Joseph followed up by dropping down on one knee and proposing.
While it's unclear what theme Kendra and Joe will go with for their wedding day, the bride-to-be has made it clear she is looking to Joy for inspiration. "There were lots of things I was definitely taking tips on at Joy-Anna's wedding that I thought we might do," Kendra told People in June.
"Counting On" returns to TLC with Season 3 in September.
© Copyright IBTimes 2023. All rights reserved.