Joy Duggar's Instagram Post Is Seriously Upsetting 'Counting On' Fans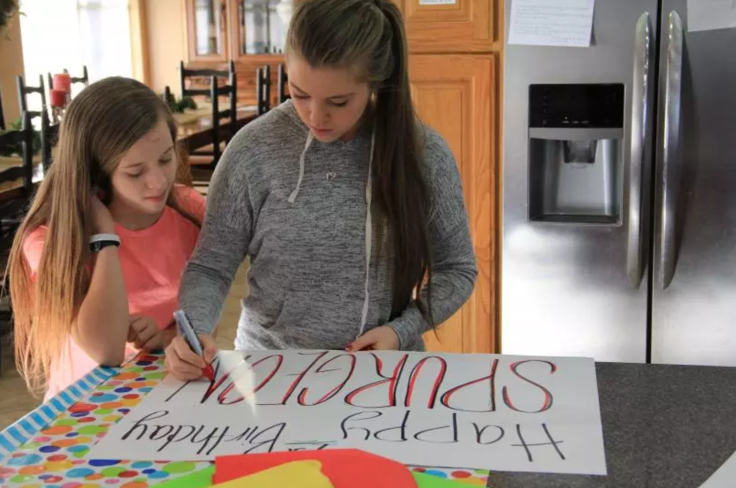 Joy Duggar and Austin Forsyth confirmed what most in-the-know "Counting On" fans were already aware of this week: Joe Duggar and Kendra Caldwell's wedding date. On their newly minted Facebook fan page, the "Counting On" stars promoted Joe and Kendra's registry, simultaneously confirming their Oct. 7 wedding date.
"So happy for Joe and Kendra!!!" the couple posted to their page Thursday. "Married life is Amazing!" The post went on to share a photo of Joe and Kendra's Amazon registry and a note for fans to "check out" their list.
READ: Joy Duggar's Big Announcement With Austin Forsyth Revealed On Facebook
Unfortunately for the couple, the post has not been well-received by most fans. After one viewer called out the newlyweds by labeling the post "tacky," other Duggar Facebook pages slammed their decision to post about the registry.
"Joy and Austin are promoting Joe and Kendra's wedding registry to fans. This can only be for one reason and one reason only, to solicit gifts from the not invited," the Duggar Family News page wrote. "The Duggars have absolutely no manners! No tact! No decorum! No shame!"
Joy and Austin's post has also received flak from their Instagram followers. A duplicate request to check out Joe and Kendra's registry on their Instagram fan page resulted in the same type of comments.
"Seriously? I think they have enough family to get them gifts," one fan wrote. "A celebrity couple whose family usually has around 1,000 guests would get more gifts than any couple could even use. Hope you practice what you preach and donate because this is incredibly tacky," wrote another user.
READ: Jinger Duggar's Latest Photo Has 'Counting On' Fans Buzzing
Others showed support for Joy and Austin's decision, saying they were simply trying to support Joe and Kendra before they celebrate their big day.
"There is nothing worse than having people nag and criticize the choices you make during your own wedding. Joy is trying to be kind and supportive. End of story," read one comment.
"There are plenty of fans that would love to send her brother a wedding gift which I'm sure this post was not intended for fans but for family and friends. If you don't like what they post it's called unfollow. So sick of all the hateful people in the world who are so quick to throw dirt on someone. There are other things to be mad about in the world and this is far from it," posted another supporter.
Joe and Kendra are due to marry in Rogers, Arkansas, this fall. The pair's wedding date reveal comes several weeks after TLC viewers saw the couple get engaged on the Season 2C premiere of "Counting On." In the episode, Joy gifted her wedding bouquet to Kendra during her and Austin's reception. What followed was her brother Joe getting down on one knee and proposing.
READ: Josh Duggar Films Surprise Video With Anna
While some were confused about why Joy and Austin would share her wedding day with Joe and Kendra's engagement, Joe said his sister and brother-in-law approved the surprise proposal. "A few weeks ago I asked Joy and Austin if they would mind if I proposed to her at the wedding and they said, 'Oh yeah, we'd love it!'" Joseph said. The Duggar Family Blog added that Joy and Austin had given their permission.
© Copyright IBTimes 2023. All rights reserved.