Jana Duggar's Facebook Post Upsets 'Counting On' Fans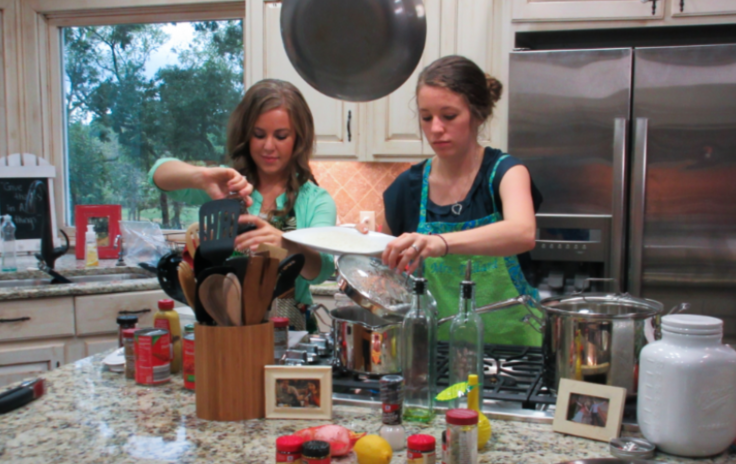 The Duggars have made it clear on multiple occasions, Jana Duggar is a big help around the family's Arkansas home.
The "Counting On" clan posted a photo of the 27-year-old leading her younger siblings, nieces and nephew in a cooking activity on Tuesday and it led to numerous upset comments from fans of the TLC series.
In the image, the eldest Duggar daughter can be seen leading seven little ones as they prep pizza in the Duggars' expansive kitchen. "The kids are enjoying making pizza with Jana," parents Jim Bob and Michelle Duggar captioned the shot.
And while Jana appears happy in the photo, fans made it clear they're tired of seeing Jana taking care of the younger Duggars. "Poor Jana. She never gets time to herself," one fan wrote on the family's page. "Why doesn't Jana get to date? She's the prettiest one," said another viewer. "I wish Jana had a life outside of taking care of her siblings," posted one fan.
READ: Jana Duggar's Post-Wedding Selfie Causes Drama
Others stuck up for the Duggars' decision to post the photo. "I don't share the Duggar's religion or political beliefs but this is how their family chooses to live their lives and they seem perfectly happy doing so. I don't think Jana's complaining so why is everyone else so concerned?" one fan wrote.
"Did anyone ask Jana if she was forced to do this? Maybe she enjoys spending time with her family," said another.
While Jana is helping with the child-rearing in the Duggars' latest Facebook photo, she recently made it clear that all of her free time isn't completely devoted to being a pseudo parent. During part one of the "Counting On" tell-all reunion special last week, Jana shared she's been keeping busy by tending to her garden and helping with renovation projects. Still, Jana has made it clear she's willing to lend a hand or two should one of her sisters announce a pregnancy.
After Jinger and Jeremy Vuolo dished about their new home in Laredo, Texas, during the special, and revealed they have a room open for a nursery, Jana said she would help her younger sibling transform the space. "We'll come back next time and we're going to help them set up a nursery," she said.
READ: Jana Duggar's Complete Dating History
Jana didn't comment on her business during the episode, though she is also a property owner. In September 2016, it was revealed she that she purchased a former tattoo shop just outside her hometown of Springdale, Arkansas. Tax documents reveal she shelled out $95,000 for the commercial property.
As far as her romantic life, Jana remains single. While she admits being single as her other sisters her age get married and start families of her own, her friends recently shot down rumors she's courting foreign exchange student and friend of the Duggars, Jonathan Hartono.
When Jana does start dating, she'll be seeking out a very specific kind of man. During a March 2016 episode of "Counting On" she admitted to being attracted to rugged men.
"A hardworking guy versus an office job guy," she said when asked by sister-in-law Anna Duggar what she looks for in a man. "I want dirt under the nails," Jana added with a laugh.
"Counting On" returns to TLC in September for Season 3.
© Copyright IBTimes 2023. All rights reserved.