Jungkook Addresses Fans Who Question 'Seven' Explicit Version: 'How Old Am I?'
KEY POINTS
BTS' Jungkook is Dazed magazine's featured star for its autumn 2023 issue
The South Korean singer talked about his music career and his solo debut single, "Seven"
Jungkook also shared that "Seven" is a direct reflection of who he is now
Aside from posing for Dazed magazine for its autumn 2023 issue, which will be on sale internationally from Thursday, BTS' youngest member, Jungkook, had an in-depth interview with the magazine about his music and new solo era.
Titled "Jungkook is now driving in his own lane," the South Korean singer's featured story provided insights into Jungkook's solo era and his recently released solo debut single, "Seven," which he first heard in March.
Upon hearing it, he reportedly fell instantly in love, so they scheduled a recording in Los Angeles right away and talked about its video concept. However, its explicit version got mixed reactions because it was far from the soft, bunny-ish, baby image people perceived of BTS' "Golden Maknae."
Addressing the people questioning the 26-year-old artist for releasing an explicit version of "Seven," Jungkook said, "If you felt [it] like that, there's nothing I can do... And if you think about it, how old am I?"
"[It] wasn't [me] trying to break away from my image," Jungkook explained. He said that "Seven" is a direct reflection of who he is now. He explained that he wants to show how much he has grown as a solo artist, taking on new challenges rather than staying in his comfort zone or settling for things he was used to.
According to Jungkook, he is still not the singer he imagined himself to be. "To me, I'm not that singer I imagined myself [to be], that specific image that I had of a singer, that's why I'm aiming higher," he explained.
Asked to describe the specific image of a singer he aims to be, Jungkook shared that he isn't sure yet. "I'm still not that sure, it's that feel, there's something there... It's right there, I just haven't got to it yet," the "Seven" artist elaborated.
Meanwhile, seemingly wanting to showcase the "sharp, powerful image" he wanted to show people, Jungkook decided to shoot shirtless for his Dazed cover shoot.
"There's no explicit agreement that Jungkook will shoot shirtless for his Dazed cover shoot; none of the fits were planned for it. But when he emerges from his dressing room, his torso is bare under a black leather jacket. This is what he's decided he wants to wear," Dazed revealed. "He silently slides behind the wheel of a vintage Mercedes-Benz, abdominals rippling. He stares down [at] the camera lens, and he smolders."
Jungkook's solo debut single "Seven" featuring American rapper Latto debuted at No. 1 on Spotify's Global Top Songs chart after garnering 15,995,378 filtered streams, making him the first artist, aside from Taylor Swift, to surpass 15 million first-day streams for a song on Spotify, according to Soompi.
As of press time, "Seven," which was released on July 14, has already amassed over 658.56 million streams on Spotify.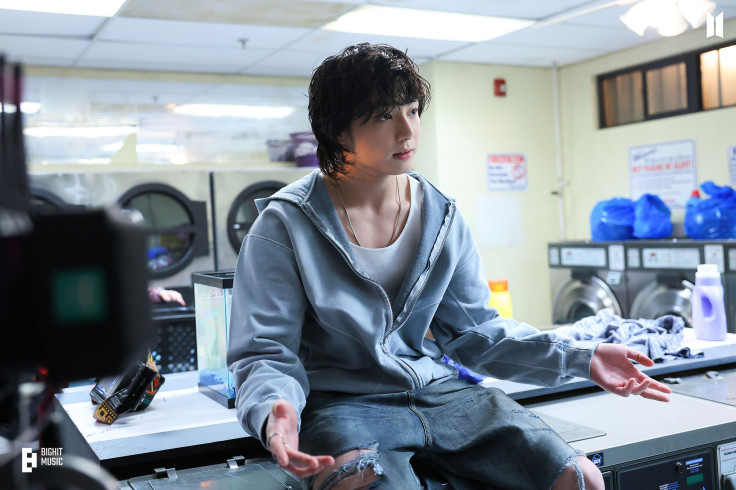 © Copyright IBTimes 2023. All rights reserved.