BTS' Jungkook Reveals New Album Release Date, Shares Details On 'One More Single'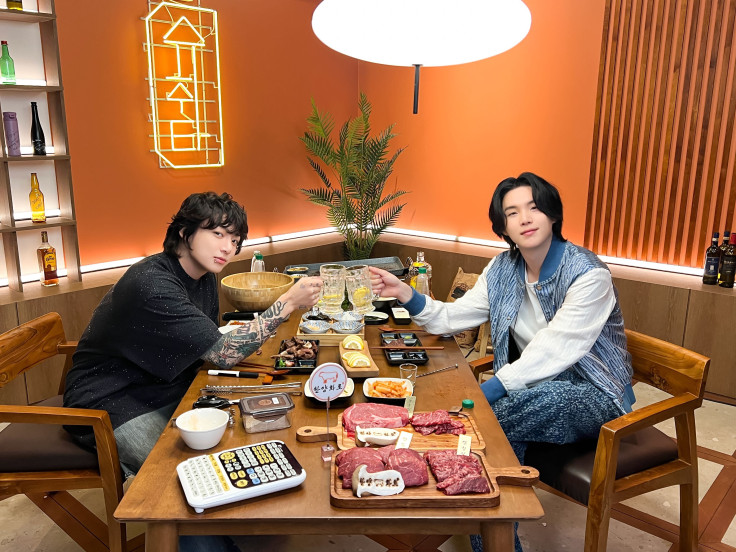 KEY POINTS
Jungkook appeared as a guest on his bandmate Suga's talk show, "Suchwita"
The "Seven" singer shared that he will be releasing another single
Jungkook also shared that he is planning to release a mini-album by November
Jungkook appeared as Suga's latest guest in the 15th episode of his bandmate's talk show "Suchwita," where he briefly talked about his plans after the successful release of his solo digital single "Seven."
On Saturday, Jungkook's highly-anticipated "Suchwita" guesting was finally released. In the latest episode of Suga's online talk show, the two BTS members had a heartfelt but fun conversation over highball and grilled beef.
During the interview, Suga asked the youngest BTS member what he had planned after the release of his solo digital single, to which Jungkook replied, "After this single [comes out], I'm [going to] have another single."
"And then, I'll be releasing a small mini album by November," the "Golden Maknae" of BTS continued.
When Suga asked if his other single and the songs for his mini-album had been decided already, Jungkook laughed and said, "No. I have to start working on them now."
Jungkook went on to share that he needed a song like "Seven" for his second single, but he did not have one yet.
Because of this, Suga suggested that he could write a song for him, to which Jungkook teasingly replied, "Can you do a good job?" Suga then said he had a good song in mind for his bandmate.
After Jungkook's "Suchwita" interview with Suga, the youngest member of BTS stayed a little bit more even without the host.
While finishing the grilled beef and highball, he made the most of his time and sang more songs in the karaoke with the staff.
Among the songs Jungkook sang in the "Suchwita" additional clip were "Emergency Room" by Izi, "Thorn" by Buzz, "LALALA" by SG Wannabe, "One Nation" by Sniper Sound, "HeeJae" by Sung Si-Kyung, "Ditto" by NewJeans and "Friend" by Ahn Jae-wook.
In other news, Jungkook took home his third music show trophy as a solo artist when "Seven" (featuring Latto) took the win on the Sunday episode of SBS's "Inkigayo" with 8,074 points, beating NCT Dream's "ISTJ" and NewJeans' "Super Shy."
"Seven" previously won on the July 20 and 27 episodes of "M Countdown," beating "Super Shy" by NewJeans on both occasions.
Jungkook officially made his solo debut on July 14, releasing the now chart-topping hit "Seven." The track has since ranked No. 1 on three major Billboard music charts, including Hot 100, Global 200 and Global (excluding the United States), making him the first-ever Korean act to achieve such a milestone.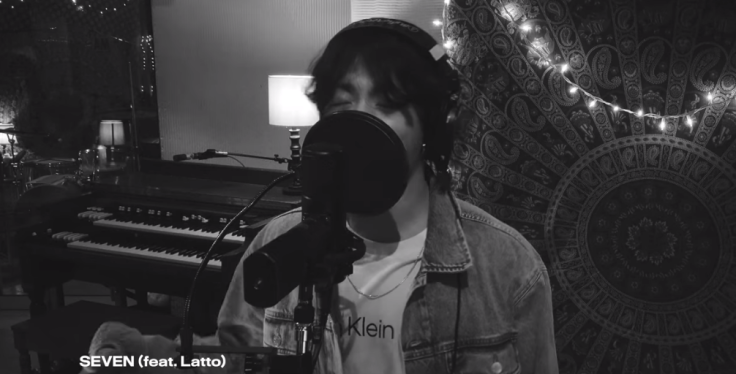 © Copyright IBTimes 2023. All rights reserved.