Justin Bieber Abandons Monkey In Germany, Shelter Boss Says Watching 'Traumatized' Capuchin Is 'Heartbreaking'
Justin Bieber has reportedly given up on plans of reuniting with his pet capuchin monkey just a month after the animal was seized by German customs officials, and is now trying to relocate him to a zoo.
Mally -- who has spent the past month living in an animal shelter as officials waited for Bieber to provide official documentation -- is unlikely to reunite with his owner, and the shelter's director says that the experience has left the monkey "traumatized," according to the Guardian.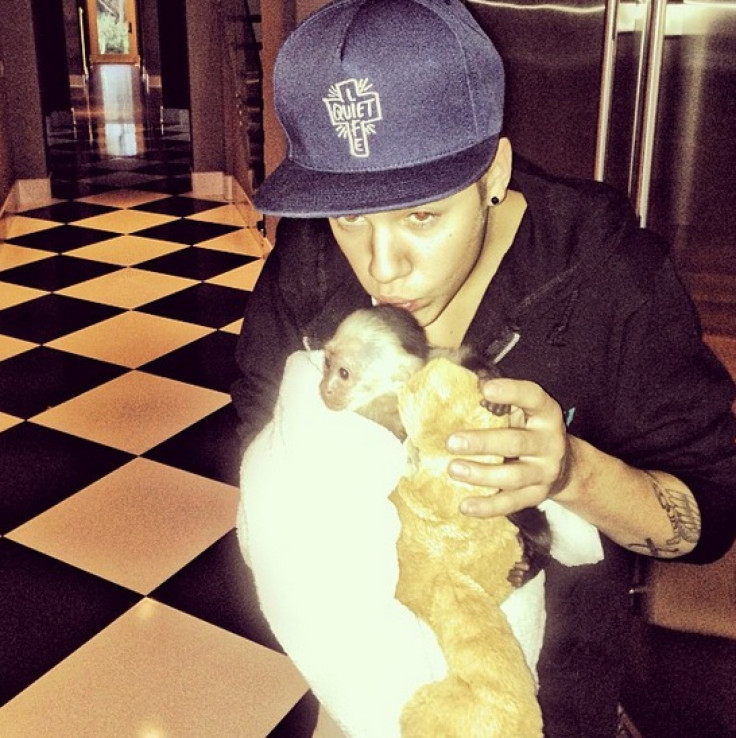 In March, Bieber's monkey, which producer, Jamal 'Mally Mal' Rashid, gave him as a 19th birthday present, was quarantined by customs officials at Franz Josef Strauss Airport in Munich because the singer reportedly lacked the requisite paperwork to fly the animal into the country. Officials granted the Canadian pop star an extension on the usual four-week policy to get his paperwork in order, but ironically, the "Never Let You Go" singer apparently plans to do just that.
Karl-Heinz Joachim, the director of the shelter that's housing Mally, said that Bieber's manager, Scoot Braun, intimated in a recent email that the singer was "looking into the idea of placing Mally at a zoo" in Germany. Braun wrote to the shelter asking, "Would you happen to have any recommendations for places that Mally would be safe and thrive?"
He added, "We are very concerned that Mally is safe and placed in the best possible residence."
Braun's message apparently marked a departure from a previous understanding that Bieber intended to reclaim Mally. Earlier this month, Joachim said that Bieber's team had communicated that they wanted Mally back, although Joachim countered that it wasn't in the young animal's best interests.
"That just isn't acceptable [because] the baby monkey needs company and to be with other monkeys at this crucial age in its life," Joachim, 64, said, referring to the then 14-week-old capuchin. "A monkey and especially a baby monkey does not belong on a world tour as a fashion accessory for a pop star … In fact it was madness to have given an animal like this as a pet in the first place. But sadly stupid things rarely go punished."
Joachim added, "The best for the animal would be to be cared for by someone who already has a couple of capuchin monkeys. The monkey does not like being alone -- it is like a person."
Joachim told the Austrian Times that Malley was "traumatized" by the experience of being separated from its mother at such an early stage in its development and then being taken away from Bieber. He said that Mally seemed disoriented and incessantly called out, looking for family members, a process Joachim called "heartbreaking."
Laura Zimprich, a spokeswoman for the animal welfare group, Animal Public, described Bieber's treatment of the animal as neglectful. "Monkeys aren't domestic pets," Zimprich said. "Taking a capuchin monkey from fellow members of its species and raising it by hand isn't appropriate in conservation. The animal will develop serious behavioral disorders."
In a recent interview with Us Weekly, the pop star talked about the discrepancies between his personal life and the way he's portrayed by the media. "The biggest misconception about me is that I'm a bad person," he said. "I want to be a good role model, but some people want me to fail."
Bieber is reportedly under investigation by the Los Angeles police for assault allegations stemming from an altercation he had with a neighbor.
© Copyright IBTimes 2022. All rights reserved.
FOLLOW MORE IBT NEWS ON THE BELOW CHANNELS