Kansas City Chiefs News: How Jeremy Maclin Helps The Chiefs In 2015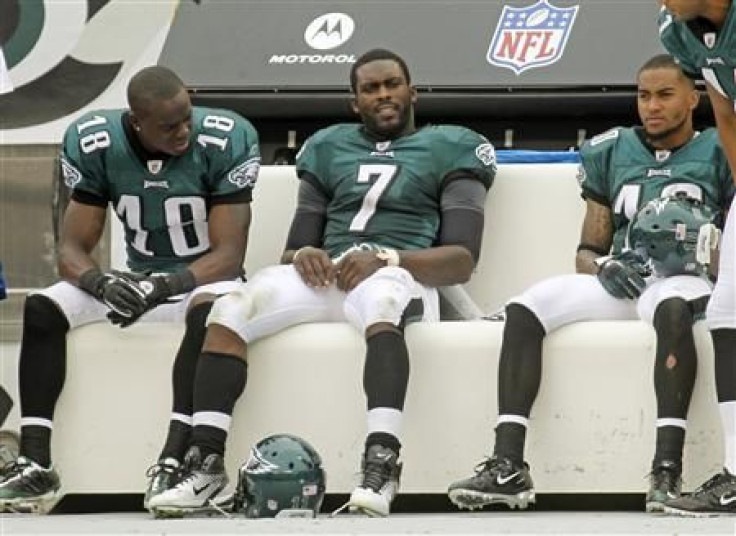 The Kansas City Chiefs are reportedly set to sign free agent wide receiver Jeremy Maclin when the NFL's 2015 season officially begins on Tuesday. The major signing should be a boon to perhaps the league's worst receiver corps in 2014.
Maclin is coming of a career year for the Philadelphia Eagles in which he caught 85 passes for 1,318 yards and 10 touchdowns. His new contract for the Chiefs is reportedly worth $11 million per season, according to ESPN's Adam Schefter.
Maclin will be re-united in Kansas City with coach Andy Reid, who drafted the receiver out of Missouri for the Eagles in the first round of the 2009 draft. Maclin should provide an immediate boost to the Kansas City passing attack. No Chiefs wide receiver caught a touchdown in 2014.
Maclin should jump into the "Z" receiver role in Reid's offense, a position reserved for the top threat. The 26-year-old was often the second option to DeSean Jackson during Reid's time in Philadelphia, but can now expect to be Kansas City's top target. Maclin is listed at just 6'0 and 198 pounds, but he's shifty, fast and sure-handed. He's also capable of burning cornerbacks with the ninth-best yards after catch (489) in 2014. Last season, Maclin showed great explosiveness in Chip Kelly's Eagles offense, affirming a complete recovery from an ACL injury that kept him out all of 2013.
Maclin's addition comes with a hefty price tag. His contract is worth $1 million more per-year than Randall Cobb's reported deal with the Green Bay Packers. Cobb was largely considered the most coveted free-agent receiver, with Maclin a relatively close second. Multiple teams were reportedly interested in adding Maclin, but may have been scared off by his asking price.
The Chiefs suddenly look like a team with a surprisingly potent offense. Kansas City has a young star at tight end in Travis Kelce to complement Maclin in the passing game. The 25-year-old rookie caught 67 passes for five touchdowns in 2014 while splitting time with Anthony Fasano, who was released this offseason. The Chiefs also have superstar running back Jamaal Charles, who rushed for over 1,000 yards, caught 40 passes and scored 14 total touchdowns last season.
Combined with Kelce and Charles, Maclin should provide a dangerous option that will ease the pressure on quarterback Alex Smith. Maclin offers Smith a deep-threat option, but he is also strong in short-yardage situations with well-run button hooks. Maclin finished 13th in the NFL in receptions in 2014, and following his rookie season has finished with a minimum of 63 receptions in each of the last four years. He also caught 10 touchdown passes (12th in NFL), which - in some simple math - is 12 more than the entire Chiefs receiving corps.
Smith had a solid rating of 93.4 last season and completed 65.3 percent of his passes. But the Chiefs offense struggled to gain big chunks through the air, finishing 29th in total passing yards. They also finished tied for 20th in yards-per-passing-attempt at just seven yards.
The price tag might be steep, but signing Maclin appears to be a sound decision. Maclin might not equal the numbers from his career year in 2014, but he certainly adds a significant boost to a weak position. He has plenty of speed and has good hands, and Reid should have little trouble incorporating Maclin into the offense.
Adding Maclin, however, might prompt the exit of receiver Dwayne Bowe, who could be a cap casualty. Bowe, 30, has spent his entire eight-year career with the Chiefs. He caught 60 passes for 754 yards in 2014. The former Pro Bowler had a steller 2010, when he caught 72 passes for 1,162 yards and 15 touchdowns. Over the past three seasons, Bowe has caught a total of eight touchdown receptions.
© Copyright IBTimes 2023. All rights reserved.