Kate Middleton and Lady Gaga's dresses: What do they have in common? [pictures]
Lady Gaga and Kate Middleton--both fashion icons but for very different reasons. Gaga loves to experiment while Kate prefers reserved classic looks.
This summer, however, Kate and Gaga have something in common. Both of their most famous dresses will be put on display.
Lady Gaga's famous 'meat dress' has been permanently installed in Cleveland as part of the 'Women Who Rock' Rock and Roll Hall of Fame exhibit. Gaga wore the dress to MTV's 2010 Video Music Awards. It spawned millions of halloween costumes and inspired PETA to make a veggie dress. Because the dress is real meat, the Hall of Fame has to perserve it with the help of a taxidermist and paint it so it looks fresh. What a job.
Kate's dress didn't need a taxidermist. Her famous Alexander McQueen wedding dress will go on display in Buckingham Palace on July 23 along with her bridal veil, shoes and wedding cake. Kate's elegant wedding dress inspired many replications and many women wore these knock-offs to their own weddings.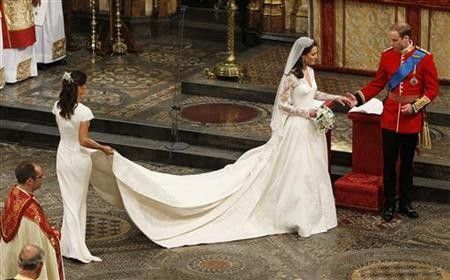 © Copyright IBTimes 2023. All rights reserved.