Kate Middleton, Prince William Urged To Not Have More Kids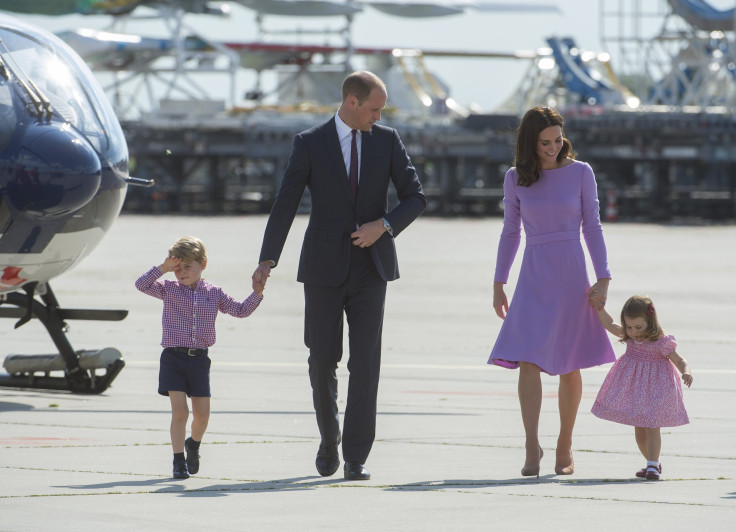 Prince William and Princess Kate were encouraged Tuesday to not have a third child by the non-profit organization, Having Kids. The San Franciso-based organization addressed the royal couple in an open letter published to their website, "respectfully urging" them to not conceive again after hinting interest of their potential plans.
The Duke and Dutchess of Cambridge currently have two children. Prince George, 4, is their oldest and Princess Charlotte, 2, is their youngest.
Read: Duchess Of Cambridge Kate Middleton's Fourth Year As A Mom In Photos
Having Kids, which promotes a sustainable and child-centered family dynamic, wanted the royal couple to take into consideration alternative options for their family planning. The letter was signed by Having Kids' Executive Director Anne Green and President Carter Dillard.
"Large families are not sustainable," the letter read. "As degraded as the world's environment is today, none of us can imagine what the world would be like if fertility rates had not been halved in the 20th Century, below 3 children per woman...The future of your country will be defined by the impacts of climate change."
The organization cites the couple's influence as a role model for family planning to people worldwide, encouraging them to use its Fair Start model — a family planning formula that they claim will give children "the equal opportunities in life they deserve."
"Of course, we know that Prince George and Princess Charlotte are certain to have wonderful lives, protected from the deprivations of poverty and the threat of environmental degradation," the letter continued. "They will receive optimal amounts of care and attention, as well as the best possible education. But the same can't be said of every future child."
The letter has generated mixed reactions from the organization's supporters and critics. Supporters questioned Having Kids for writing an open letter to the royal couple about their family planning desires, which led the organization to address advocates' concerns on their website.
Read: Prince William, Kate Middleton Meet 'Game Of Thrones' Star Tom Wlaschiha, Ask For Season 7 Spoilers
"None of us can continue to embrace the unsustainable, subjective, and parent-centered model, which has created the troubled world we live in today," Green wrote Thursday. "If every one of us were to choose a smaller family, and to also work with other families to plan a fair start in life for their children, the world would be a much better place. We owe it to our children to make that change."
Green also claims that Having Kids chose to focus on the royal family for four reasons, including the fact that "the royal family has the resources to cooperatively incentivize other families to plan a fairer start for their own children."
The open letter was inspired by Middleton's July statement where she joked about the thought of having more kids with her husband, according to Vogue. She said, "We will just have to have more babies."
While Prince William is one of two children, Middleton comes from a three-child household. It wouldn't be a foreign concept for the couple to expand their family, with fellow royal figures like Queen Elizabeth II being one of four children.
The Duke and Dutchess of Cambridge haven't commented on Having Kids' open letter.
Follow me on Twitter @dory_jackson
© Copyright IBTimes 2023. All rights reserved.