Kathy Bates Has Double Mastectomy After Diagnosed With Cancer: 'I Don't Miss My Breasts As Much As I Miss Harry's Law'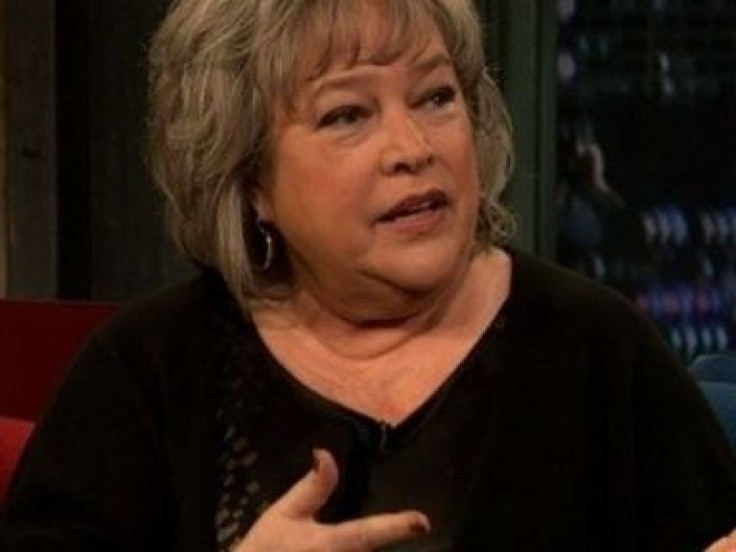 Kathy Bates is battling cancer for a second time. She has undergone a double mastectomy to stop her breast cancer nine years after surviving ovarian cancer, People reports.
The 64-year-old actress, an Oscar winner for her role in the 1991 thriller "Misery," explained to the celebrity magazine that she had been diagnosed with breast cancer several weeks ago.
"After much consideration, I underwent a double mastectomy," she reveals. "Luckily, I don't have to undergo radiation or chemo. My family calls me Kat because I always land on my feet, and thankfully this is no exception."
Post-surgery, Bates remains hopeful that she will get well.
"My doctors have assured me I'm going to be around for a long time," she says. "I'm looking forward to getting back to work doing what I love to do."
She definitely has something to look forward to in the near future, Bates has been nominated for Outstanding Actress in a Drama for "Harry's Law" and Outstanding Guest Actress in a comedy for "Two and a Half Men" at the 64th annual Primetime Emmy Awards, which take place Sept. 23.
Bates is known for such roles the "unsinkable" Molly Brown in James Cameron's 1997 blockbuster "Titanic" and also had memorable roles in "About Schmidt" and "Primary Colors," among many others.
Twitter fans made sure to send the celeb their warmest wishes to one of the favorite Hollywood stars:
"Warmest wishes for a speedy recovery for the fabulously talented Miss Kathy Bates," @meredone said.
"Sending my love to @MsKathyBates - a lovely lady, and brilliant actress, who's been through one hell of an ordeal," Piers Morgan wrote.
Bates appreciated on the love she was receiving on Twitter, tweeting out:
"I don't miss my breasts as much as I miss Harry's Law. ;-) Thanks for all the sweet tweets. Y'all kept me going."
© Copyright IBTimes 2023. All rights reserved.